6ix9ine Hires Bartenders Suing Cardi B for Assault...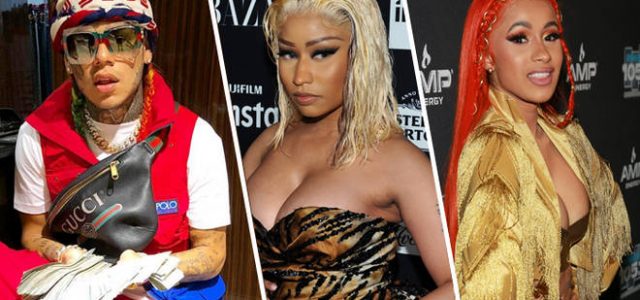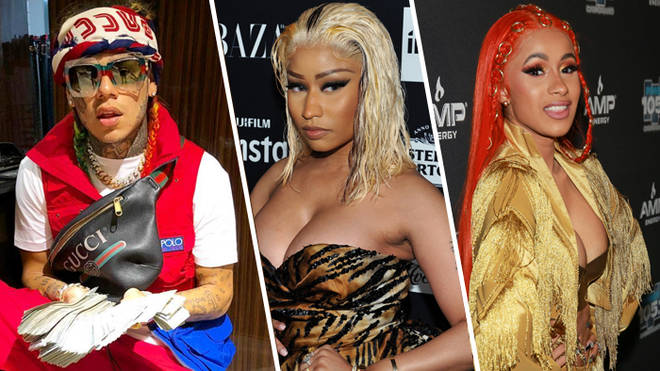 6ix9ine Hires Bartenders Suing Cardi B for Assault
6ix9ine is getting in the middle of Cardi B and Nicki Minaj's feud. The "FEFE" rapper has hired the two strip club bartenders who are planning to sue Cardi for his new music video, according to TMZ. Record label sources say Tekashi flew in Jade and Baddie Gi to appear in his video with Cardi's rival Nicki Minaj and Kanye West.
Cardi surrendered to police last month in connection with a fight at Angels Strip Club in Queens on Aug. 29. She was charged for allegedly ordering an attack on the two bartender sisters, who were hospitalized as a result.
Cardi believes Jade slept with Offset. They have hired lawyer Joe Tacopina and plan to sue Cardi. Accompanied by Tekashi, Jade and Baddie hit the streets of Beverly Hills for a shopping spree at Louis Vuitton last week.
They shut down the store while surrounded by fans and paparazzi. The sisters were reportedly on set when gunfire erupted on Thursday night at a Beverly Hills mansion, where 6ix9ine's video was being filmed.
Approximately eight shots were fired and at least one bullet went through a bedroom window. No one was hurt. The sisters will supposedly take part in the shoot if it's rescheduled.
6ix9ine is gearing up to release his debut album Dummy Boy on Nov. 23 featuring his collaboration with Nicki and Kanye.
Ryan Kyle
Rayne Klye is an editor for 24Hip-Hop. He keeps you in the loop nightly by updating the site with your favorite songs, videos, mixtapes, and news stories, all while maintaining our social media game to be on point. His appreciation for art, and love for sports & fashion makes this Chicago writer very knowledgeable within the entire urban culture ...