Watch Ariana Grande Perform thank u next on...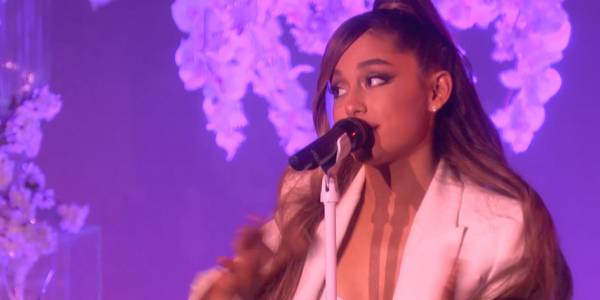 Watch Ariana Grande Perform thank u next on Ellen
Ariana Grande returned to daytime television to perform her new single "thank u, next" for the first time on Wednesday's episode of "The Ellen DeGeneres Show."
Inspired by her favorite movie The First Wives Club, the pop superstar was joined by the song's co-writers, Victoria Monét and Tayla Parx.
Dressed in all white, the ladies performed synchronized moves on stage, which was set up to look like a wedding reception from the 1996 movie.
At one point, she climbed on top of a chair and nearly fell on her way down. "Oh my God!" she said before continuing on. She seemed to be having fun, laughing while delivering campy old school moves throughout the performance. The trio eventually made their way through the audience before exiting from the back.
"thank u, next" has set a Spotify record for biggest single day for a female artist in the history of the streaming platform with 8.2 million global streams. Ariana is now working on her next album, reportedly titled thank u, next, which follows August's Sweetener.
Ryan Kyle
Rayne Klye is an editor for 24Hip-Hop. He keeps you in the loop nightly by updating the site with your favorite songs, videos, mixtapes, and news stories, all while maintaining our social media game to be on point. His appreciation for art, and love for sports & fashion makes this Chicago writer very knowledgeable within the entire urban culture ...