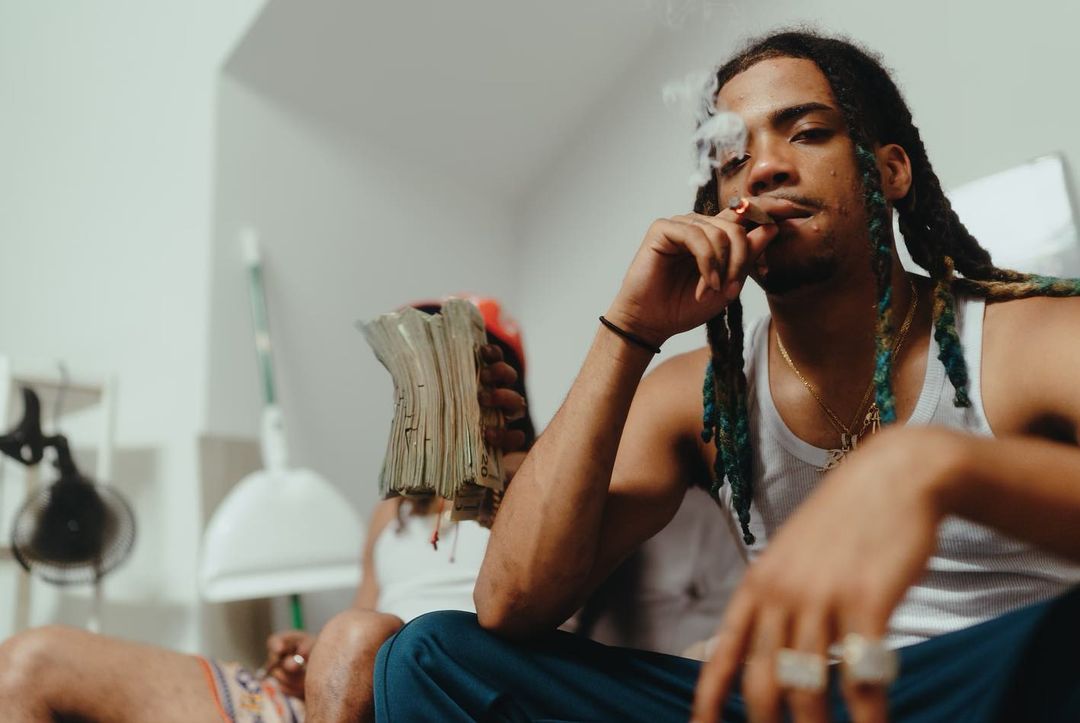 New York, NY – Ol Smith and Burnsev Records releases audio/video to "Run it Up" featuring Ron Suno on July 21st at midnight. Ol' Smith was inspired to write Run it Up through the pandemic which motivated him to get to the bag. Ol Smith recorded the song at 12 midnight when he was hanging out with friends.
"Run It Up" single was produced by his close friend Kev and Ron Suno blessed the track with his comical rap ability. As a child he loved playing baseball but music was something he enjoyed as well. Ol Smith's future goal is to become an International Artist not only rapping for the streets of New York City.
Ol' Smith is no novice to the rap game in which he was featured on Revolt TV and AllHipHop. His image is one that is very unique and forthcoming and tapping into his cultural roots through his dreads that are dyed blue which symbolizes serenity.
No wonder he likes the color blue. He must enjoy spending that blue cheese as he runs it up with Ron Suno in his new release. Ol Smith's label is called BurnSev which represents the two Bronx neighborhoods he's from, Burnside and 167st.
About Ol' Smith
Ol' Smith, Oelis De Los Santos, was born in Puerto Rico and raised in the Bronx. Although he had no interest in making music growing up, he was always influenced by the hip-hop culture that came along with growing up in 167th street and Sheridan Avenue. As a teen, Ol' Smith would freestyle in the hallways of 1174 with friends who always encouraged competitive rap battles. Being inspired by artists such as Andre 3000, Fabolous and Romeo Santos, helped shape his approach to music and fashion. His artistic fashion sense is a unique style that naturally grasps attention. Before starting his music career, he spent his childhood playing baseball. Gaining recognition from Universities across the country for his outstanding abilities on the field. Smith momentarily relocated to Estherville, Iowa to further pursue his baseball career.
Though it was not his focus, his passion for music would only grow. Expressing himself through music, led him back to New York where he would act on his musical talents. Smith's new endeavor drove him to discipline himself; spending consecutive hours in the studio for months gathering music, video footage and building many connections with artists/producers. Childhood friend and artist OfficialDrama realize his potential and began collaborating with the artist releasing tracks online in the summer of 2017. Thousands of views rapidly came in with the release of their top hit single Gotta Go. Ol' Smith performed in the top clubs/lounges creating a buzz in New York City. While gaining recognition, the duo caught the attention of many stars. Opening for acts such as UnoTheActivist and Thouxanbanfauni, they're stunning the crowds with their energetic, melodic style while bringing that New York Grit.
Shortly after, Ol' Smith opened up for A Boogie Wit Da Hoodie in Berlin, Germany, grasping numerous attention. The young artist released his debut hit single 'Go Hard' which elevated his streams rapidly. This track gained support from major companies such as AudioMack and Sprayground, assisting the official video to hit over 100,000 views on YouTube with guidance from To The Management group led by longtime friend Alexi "Lex" Guillen. Ol Smith record label is called Burnsev which represents two neighborhoods he's from Burnside and 167. Ol' Smith likes the dread hairstyle and he decided to dye it blue because that's his favorite color and he wanted to be different from other rappers.Ol' Smith future goals is to become an international artist. He wants his music being played all around the world.