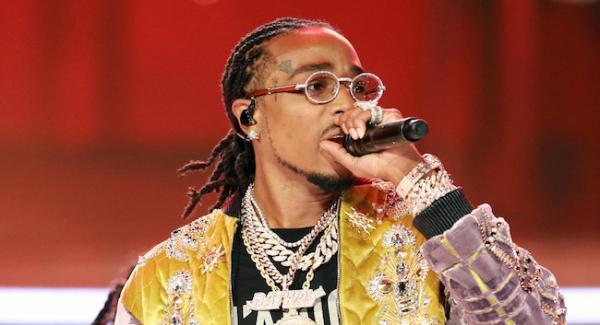 Quavo Clears Up Migos and Drake Collab Project Rumors
Fresh off the release of his debut solo album, Quavo stopped by REAL 92.3 L.A. this week to discuss the seminal project, his love life, and the controversy involving the late rapper Lil Peep.
For those who aren't aware, the Quality Control rapper received backlash for the Quavo Huncho track "Big Bro," which many believed included insensitive lyrics directed at Peep.
Quavo rapped:
Is you with me or against me?
I'm a OG now so you need me
Think you poppin' Xanax bars, but it's Fentanyl
(No-no bars, it's Fentanyl)
Think you're living life like rockstars but you're dead now
According to medical examiners, Peep died of an overdose on fentanyl and generic Xanax back in November 2017. Though it's understandable why many believed Quavo was referring to the rapper in "Big Bro," the Migos member insists he would never speak on the deceased.
"I lost my barber to [fentanyl]. He's been cutting my hair ever since my homecoming dance, you know what I'm saying?" Quavo told Kev and Hed. "I look at him as a big bro […] I was just trying to relay that message to the world. It was not at all to Lil Peep. I never met him and I wouldn't even say nobody's name that's not here on this earth."
Quavo also addressed Migos' ongoing beef with retired rapper Joe Budden, insisting they didn't like the fact that the Slaughterhouse spitter shaded his group, as well as Offset's wife, Cardi B.
"There's a problem with the things he say. We're grown, and we don't like when people say rude things about us. Period," Quavo said. "We don't go for that. And he said rude things about my man's wife, and he said rude things about us. We don't like that."
Quavo was later asked about his rumored relationship with Saweetie; however, his response was, unsurprisingly vague: "She nice. I like her a lot […] She ain't my homie, so…"
He also spoke on Migos and Drake's rumored collaborative project, simply stating that it "might" arrive after they wrap up the Aubrey & The Three Amigos Tour. He said both parties were open to the idea, but they have yet to get it started.
You can check out the full interview in the video below.