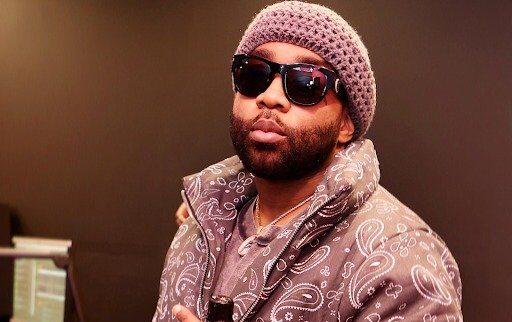 For years the Baltimore, MD native-born Preston Reed was street hustling to fund his rap career & record label 5203 Records. While scrambling to acquire funds he quickly made a name for himself as a top-tier MC in his city. But that all came to a crashing halt one night in 2010 when P Dope also known as Dope Boy P was shot in the head, face, arm & back; doctors believed the incident would leave him paralyzed for life. This wasn't his first time dealing with near-death experiences as he had been in multiple shootouts and lost countless friends to gun violence over the years. A dark reality in the treacherous streets of Baltimore.
After surviving the devastating injury, P Dope considered his next move. After taking several months to heal he immediately began documenting his road to recovery. As the streets were now talking and anticipating his return Dope found that revamping his strategy would be necessary to turn himself into a household name recalls the 33- year- old MC. "At that time, I was young and on some dumb sh*t. I was going so hard out there that it was bound to happen. I'm a hustler by nature. One thing a hustler knows is shit can change in the blink of an eye, you have to keep sight of the goal. That's exactly what I did. I was focused on getting my family, my team & myself into a better situation. I knew we deserved more out of life & I saw the bigger play. I went back into the studio."
So far, that decision has caught fire: The music he's released with his 5203 label has amassed cameos & co-signs from industry influencers, like Brian "B.Dot" Miller, landed him commercial campaigns with companies like Shoe City, Sync placements in multiple films, and earned him a reputation as one of the culture's most auspicious talents.
The accomplishments Of P Dope would deserve applause regardless of locale, but they're especially admirable in Baltimore, an overlooked area for hip-hop. The city gained some attention due to the HBO Series " The Wire". A 5 season series That shed light on the narcotics, poverty and violence rap has always documented but lacks the historical reverence or music industry infrastructure of other cities such as New York City or Atlanta.
"The mindset of someone from Baltimore, they don't even think about making it. They want to be the biggest dope boy or f#ck the most girls or be the biggest killers or be hood celebrities," Dope says. "We out here figuring sh*t out the best way we know how. The old heads judge us, but never reached out to guide us so it is what it is."
That type of environment had a massive impact on Dope, who was born in the city and lived with his mother and great-grandmother as a child. At the tender age of 10-years-old, he was expelled from Baltimore City's public schools. Which forced his family to move out to the Baltimore County area in an attempt to continue his education. Although he was expelled, surprisingly Dope was a straight-A student on paper. "I remember being a kid and being intelligent. But I also remember having issues controlling my anger and getting into a lot of fights with students and teachers alike" Dope recalls.
Moving into a different area gave him exposure to a world outside of his neighborhood. But life in Baltimore forced him to grow up fast; he hit the streets at an early age and dropped out of high school. "We were out that Mobb; A lot of drugs, a lot of violence, a lot of girls," he says. "We didn't have many leaders. Even the ones we had weren't into positive sh*t. They put that battery in our backs and showed us how to avoid law enforcement and not to turn our backs on each other. It's still like that right now. Not much has changed."This lifestyle wasn't the one that his mother wanted for Dope. She taught him to be respectful & built his confidence to be an independent person however the influence of the streets were very overpowering on impressionable youth. "At that time I felt like I didn't have many options," says Dope "I needed money, I needed freedom to do whatever I wanted to do."
Dope soon found himself arrested for possession with intent to distribute. A felony charge in the state of Maryland. Pleading guilty he served 18 months of supervised probation. He would then later be arrested again due to violation for possession of illegal firearms. Before being shot, Dope had already lived a lifestyle that most rap artists portray, which gave him even more reason to focus on music. " I felt like I'm better than ni**as you feel me" he recalls."I rap better, I look better, my story is more authentic, I lived this sh*t." Although he had recorded many mixtapes before, in 2015 he proved he was cut from a different cloth. He collaborated with multi-media artist Malcolm Xavier on the creative direction and artwork of this ambitiously titled "7 Days Straight". His mix of witty lyrics, punchlines, storytelling & hunger for success complemented by his raspy yet menacing nasally tone shines through on every record.
This formula proved successful. In 2017, he hit a new peak with the release of P Dope's "Not A Role Model". Which was hosted by Dj MLK the official DJ for Grammy Award-winning rapper T.I. and his subsidiary label Hustle Gang Records. He also featured cameos from underground rap stars like Boogz Boogetz, Speedy & Doelo BML. The Cover art was provocative: an illustration that featured P Dope & his nephew counting out $20,000 in cash on set in the background of the neighborhood he frequented as a youth. It was a perfect combination of gritty street rap, and a subversive aesthetic that merged the trenches with the art gallery. This piece was again commissioned by multimedia artist Malcolm Xavier and gained the attention of the music industry leading to meetings with record labels and interviews on multiple radio stations & podcast platforms.
Months later, tragedy struck yet again, when recording artist and lifelong friend Darnell "Doc" Rice fell victim to gun violence. "All the people you have seen around me I've built with since I was a kid. Doc and I grew up together, we damn near raised each other. Our mothers all knew each other, we all stayed at each other's houses & did wreck-less sh*t. Even though we were kids we were leaders to our peers. Doc especially was always a stand-up. He took care of his family and a lot of other people. Losing him was a big hit, I've been to a lot of funerals but that was the hardest one in my life." Dope says.
Yet when dealing with the tumultuous events of his past Dope reverts to -the business tactic he's adopted for previous tragedies. "The Most High will never place more on us than we can handle you feel me. Tomorrow ain't promised we gotta live every day to the fullest extinct and ball out for our brothers that's above us," he says "gotta keep going hard." Dope would go on to record "Smoke to the sky" a vulnerable ode that chronicles the events & memory of Doc's life. " When I recorded the lyrics for that record everyone in the studio was in tears including myself," Says dope "I know Doc would be proud of me right now." Still dealing with the loss took a toll on P Dope as he continued to release more music singles and develop his clothing line.
"I always had a love for fly shit, from art to clothes to cars. " says Dope. " My heart has been in the culture since day one. It's Only right I embodied every part of it and set the trends for the next generation." P Dope began to combine his education in marketing with his deep understanding of fashion and began selling screen printing shirts, hoodies and jackets to his fans. It began as a small thing but quickly began to bear fruit. "The first store to believe in my vision was Angel Park, after we were able to sell tees there alongside the bigger brands like supreme & reasons I knew I was onto something," Dope recalls.
More recently P Dope continues to release music gaining traction and the attention of new fans. His strategies have created a brand that listeners have come to love and expect from the Baltimore native. Reflecting on his life he sheds light on his trials and tribulations and pays homage to many of his heroes and fallen friends. In July 2022 Dope released yet another EP titled "Icons Never Die". The E.P finds P Dope at his most concise and focused in some time. The raw, kinetic emotion & street lingo is present & combines the lyrical prowess his core audience loves as well as new sounds from Dope. This is the versatility that has made P Dope such a force to be reckoned with. Songs like "Score" Where Dope taps into a New York Drill pocket and effortlessly delivers high energy flows. The marriage between ominous and ornate aesthetics continues to flourish while appearances from artists like Heemi & Paradise add to the composition of this street masterpiece. The album art features an origDopeinal painting from artist Malcolm Xavier, The abstract portrait is an adaptation of P Dope's brother-in-arms Doc who fell victim to gun violence before reaching his potential.
At this point, P Dope has earned his right to be mentioned among the greats of Hip-Hop as he continues to build his legacy and do business on his terms. He is the true embodiment of the word "inspiration". To learn more about P visit http://dopeboyp.net