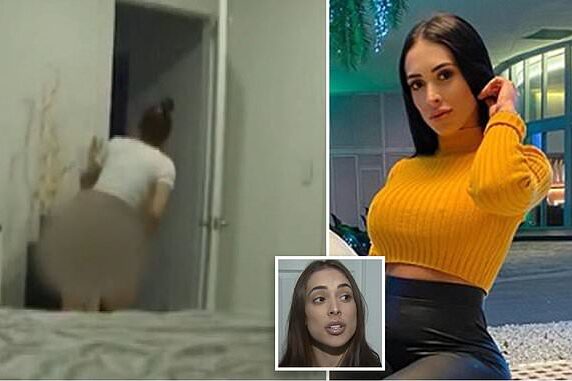 Miami Instagram and OnlyFans model Ansley Pacheco shot at burglars attempting to rob her home while family and friends watched the NBA Finals.
Two armed men entered her home on Oct. 4, after stalking the property and gaining entrance after a guest was let through the front gate. Ansley's husband and friends were watching the basketball game when the armed men entered and told everyone to get on the floor as they robbed the men of their jewelry.
Ansley was in the bedroom with her son when she heard yelling and grabbed her gun. Once she opened the door, she was confronted by one of the home invaders.
"He told me to put my gun down. I just shook my head no, and then I said, 'Don't shoot me, my son is in here,'" Pacheco said.
Despite her plea, the burglar shot at least six rounds at Ansley, hitting her headboard, TV, and closet door. After she returned fire, the robbers ran away while shooting back. After the robbers fled, her husband grabbed the gun and shot at the men as they drove away.
"I just knew that I had to do something, and my first instinct was to grab the gun and defend my husband and my son," Ansley said. "You know, they could've killed him; they could've killed me. They didn't care at all."
The burglars reportedly stole over $100,000 in jewelry. The Pacheco family and their guests say did not recognize the robbers.
in recent news, Milan Harris Reveals Why Meek Mill Broke Up With Her