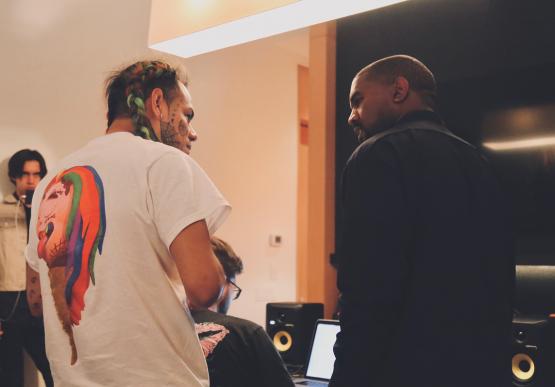 Kanye West & Tekashi 6ix9ine Hit The Studio Together
Kanye West recently named Lil Pump and Tekashi 6ix9ine as two of his favorite new artists. He has already collaborated with Pump on a song and music video 'I Love It' which debuted at the Pornhub Awards a couple of days ago.
Kanye is now eyeing to collaborate with 6ix9ine. The two were involved with a Pop-Up together at the New York Fashion Week earlier this week. Kanye was even happy to share a photo of them hanging out along with Consequence.
— KANYE WEST (@kanyewest) September 8, 2018
But that's not the only thing they worked on. The two also hit the studio together yesterday to record some music, a few moments of which were captured by the controversial New York rapper's photographer Don Canon. Check it out below. It will be interesting to see what they cook.
https://www.instagram.com/p/BnevLqEgj9g/?utm_source=ig_embed_loading
https://www.instagram.com/p/Bne_f5-A5bL/?utm_source=ig_embed_loading