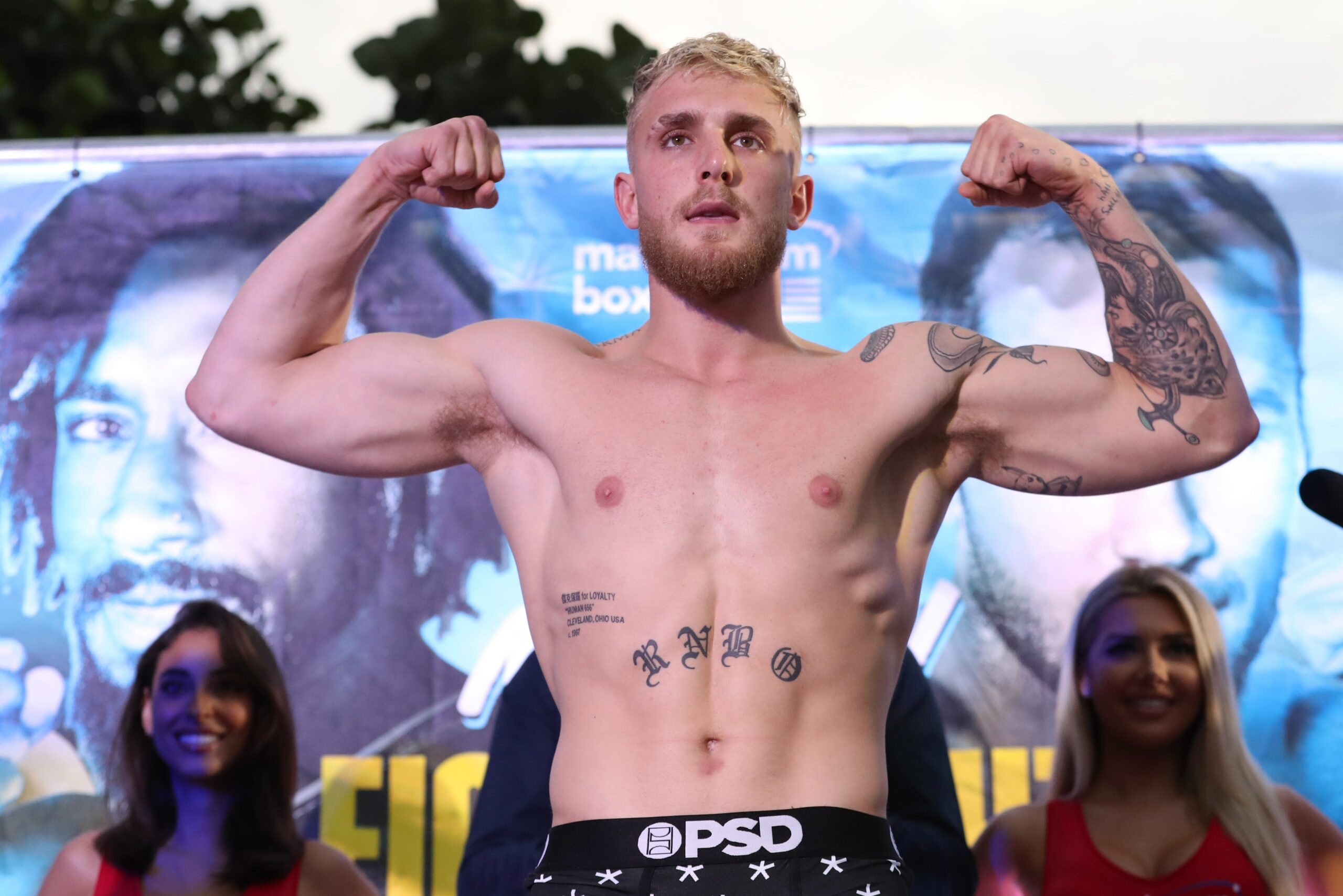 Dec 15, 2020, 03:24am EST — Jake Paul mentioned Conor McGregor as a hopeful opponent during his post-fight interview after his knockout victory over Nate Robinson. The Youtuber made his wish clear on Monday by issuing a formal challenge to the UFC superstar.
Paul uploaded a video on Twitter of him challenging McGregor to a fight for $50 million. While sitting in a blue Lamborghini, he launched a number of insults at McGregor and poked fun at his altercation with an elderly man. He even made negative remarks about McGregor's wife and rated her a "four" as he took puffs of a cigar and sips out of a glass while wrapped in an Irish flag.
"What the f*** is up you Irish c***!" Jake Paul started. "Good morning Conor McGregor. I know you're probably beating up old dudes in a bar right now or jacking off because you're sick of f****** your wife. I mean she's a four, Conor, you could a lot better but happy Monday! My team sent you a $50 million offer this morning. $50 million cash…the biggest fight offer you've ever been offered but you're scared to fight me, Conor."
Jake Paul claimed McGregor is scared of losing to a Youtuber and compared McGregor's 0-1 record as a boxer to his 2-0 record. He also made fun of McGregor's upcoming fight against Dustin Poirier and pointed out that he's coming off of the eighth-biggest pay-per-view event in history. Paul also responded to Dana White's claim that there was no chance of Conor McGregor fighting Jake Paul.
Sign the contract @TheNotoriousMMA pic.twitter.com/xag5apMiQh

— Jake Paul (@jakepaul) December 14, 2020
"And Dana White, you're a f****** p**** too you ugly f****** bald b****!" Paul said. "You said there's zero percent chance of this fight happening but there's zero percent chance of you getting some f****** p****. Conor, you're scared. Dana, you're scared. Sign the f****** contracts you idiots."
White has said there is a marketplace for what are widely called "freak show fights," but he is in the business of finding and promoting the best MMA fighters in the planet.
McGregor has yet to reply to Paul, but that didn't stop the ex-champ's longtime rival Nate Diaz from stepping in between them.
Jake Paul u need your ass beat for free u spoiled fuck u can't really fight dumbshit your gonna end up with your ass whooped for real somewhere talking like that 👊🏼

— Nathan Diaz (@NateDiaz209) December 15, 2020
in recent news, Snoop Dogg Reply to Backlash From His Criticism of Cardi B's "WAP"