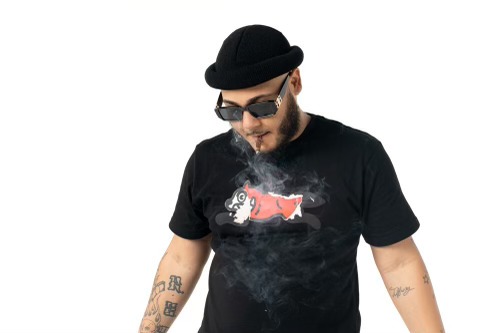 From a young age, Flame LaSauce's passion for music ignited within him. Surrounded by Miami's pulsating rhythms and diverse sounds, he absorbed the city's musical essence, fusing it with his own experiences and emotions. It was this unique combination that paved the way for his signature sound, a melting pot of club tracks, and heartfelt hip-hop ballads that resonate with audiences of all backgrounds.
Sauce's artistic qualities are a testament to his boundless creativity. With every track, he dares to push the boundaries, experimenting with different genres and seamlessly blending them together. Beyond the beats and melodies, Flame LaSauce's lyrical prowess shines through. His thought-provoking verses and emotionally charged storytelling reveal a vulnerable side that connects with listeners on a profound level. Whether it's the exhilarating party anthems or introspective ballads, Flame LaSauce's artistry leaves an indelible mark on the hearts of his audience. His last release of 2023 titled "How Can I" is a prime example of this.
One of the most striking attributes of Flame LaSauce's talent is his incredible versatility. A chameleon of sound, he effortlessly switches gears from creating infectious club bangers that keep partygoers moving to crafting soul-stirring hip-hop ballads that tug at heartstrings. This unique duality allows him to cater to diverse audiences, making him a crowd-pleaser at both high-energy concerts and intimate gatherings.
Flame LaSauce is a musical force to be reckoned with. With his unique artistic qualities, high-energy performances, and a sound that transcends genres, he has become an influential figure in the music industry. From club tracks that ignite dance floors to lyrical hip-hop ballads that touch the soul, Flame LaSauce continues to push the boundaries of creativity, proving that he is an artist with an enduring impact on the world of music. Look out for Flame LaSauce and his next release titled "Intro"
Official Website: www.flamelasauce.com
Instagram: www.instagram.com/saucelaflame
Facebook: www.facebook.com/flamelasauce33
Youtube: www.youtube.com/channel/UCCXX937DN9czQoz0IEG_7Gw