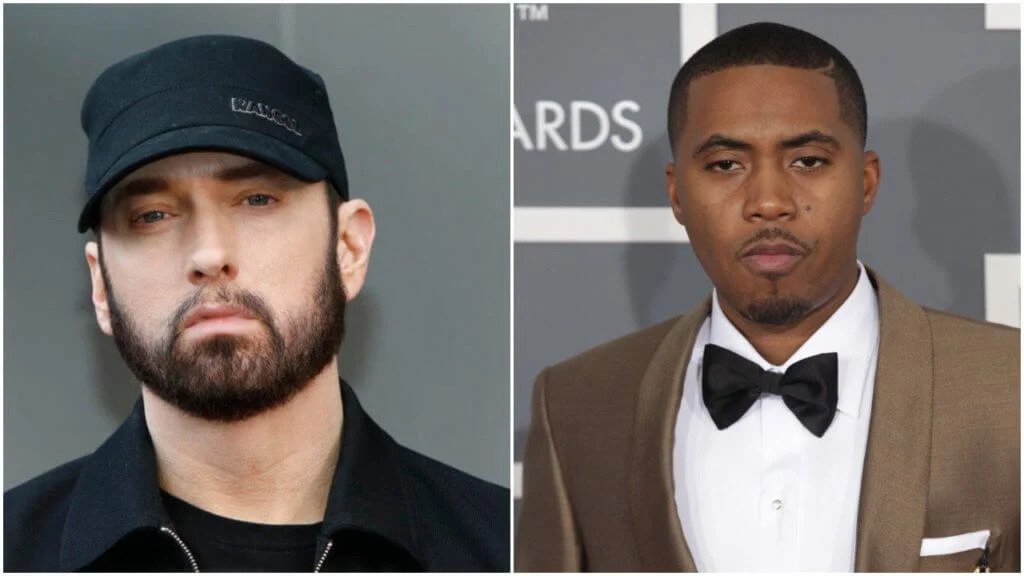 Apr 26, 2021, 12:57pm EST — One of the biggest crimes in the history of hip-hop is Em and Nas never collaborating. Over the weekend, Marshall made his first appearance on ClubHouse, and surprisingly had a few fans come up to the stage for a rare converse.
However, one of the stand-out moments from the brief conversation, was Em owning a rare cassette tape of Illmatic.
The conversation took place in an official Shady Con room, in which Paul Rosenberg and DJ Whoo Kid were also present. "My most coveted was probably Nas' Illmatic," he admits. "Man, I couldn't find that shit nowhere. I finally found one, and it cost like five, six hundred dollars. For a sealed copy. Because who the fuck had a copy of Illmatic and didn't open it. Nobody."
"I think it's backstock from records stores had in the back storage," he continues. "That's the only thing I can think of. Cause nobody's going to have a fu*kin Illmatic tape and not open it." When one participant claims they have an opened copy of The Slim Shady LP on cassette, Eminem gives a frank assessment: "twelve cents."
Take a listen to his Escobar story below.
We're on @joinClubhouse talking about our #ShadyCon Drop – join my club I got some invites for stans – https://t.co/cBG3C0pZiJ

— Marshall Mathers (@Eminem) April 25, 2021
in recent news, Megan Thee Stallion Announces Hiatus from Music and Social Media