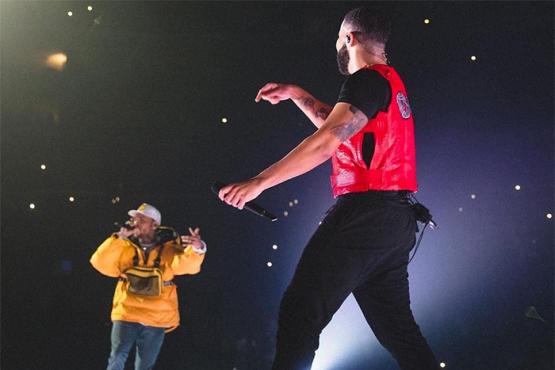 Drake And Chris Brown Reunite At Los Angeles Show
God's plan. After squashing his beef and bringing out Meek Mill during his Boston tour stop last month, Drake put an end to his rivalry with Chris Brown last night.
During the first of six Los Angeles shows on his "Aubrey and the Three Migos Tour" on Friday (Oct. 12), the 6 God surprised the Staples Center crowd by bringing out Breezy for a "full circe moment."
"I figured tonight in Staples Center with each and every one of y'all would be the perfect time to share this moment," said Drake, who last appeared on stage with Brown in 2009. "I'd like to share the stage with this man and L.A. I hope you motherfuckin' enjoy it."
Breezy then emerged to cheers from the crowd to perform "Party." They embraced before Drake called him "one of the most talented human beings walking this earth." He also stuck around for a second song, Lil Dicky's "Freaky Friday."
"I appreciate that man for coming on this stage," added Drake, while sharing his desire to collaborate again. "I hope after this, I hope we can make some music together. It's long overdue, we need to do some shit."
Following the show, Drake took to Instagram to reflect on the reunion. "This is not a fan edit," he captioned a photo of them on stage together. "Last time I was on stage with Breezy was 2009 at Virginia Commonwealth University…tonight I got to reconnect with him for the first night at Staples! I love a good full circle moment. Thank you."
Brown posted a video of him and Drake with the caption: "2 KINGZ!"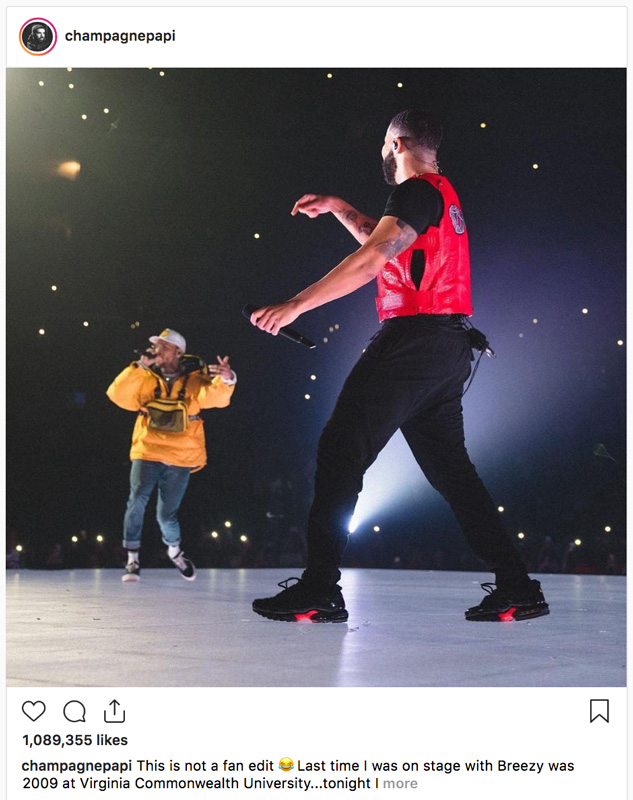 Adele was also in the audience during last night's show. The Grammy-winning singer praised Drake and described the show as "up there with one of my favorite shows of all time."
Taking to Instagram, Drake responded, "I love this woman and she came to the show. Thank god nobody told me or I would have been SHOOK."
Oiii Champagne Papi blew my mind tonight! Best production I've ever seen hands down and way up there with one of my favorite shows of all time. Huge love ❤️

— Adele (@Adele) October 13, 2018
Drake and Migos' "Aubrey and the Three Migos Tour" will return to Staples Center tonight and Sunday before heading to the Forum for three nights starting Oct. 16.