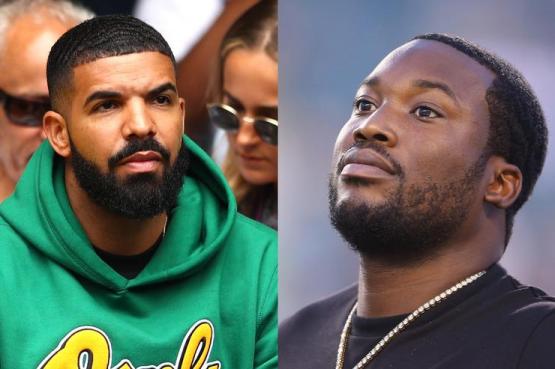 Drake and Meek Mill lead by example.
The month of May initially marked the end of Meek Mill and Drake's beef with the Philly rapper announcing that he and Aubrey had hashed out their differences. Now, during Drake's Aubrey and The Three Migos tour stop in Boston, the olive branch was immortalized with Meek joining Drizzy onstage at the TD Garden as he ripped through his "Dreams and Nightmares Intro."
"That's my brother," Drake would tell the crowd.
Drake saying use him and Meek Mill squashing their beef as an example. #AATTM pic.twitter.com/nPi7rr1D2k

— Word On Road (@WordOnRd) September 9, 2018
It's a refreshing end to a feud that first took root in 2015 when Meek launched a campaign that catalyzed the question of ghostwriting that continues to follow Drake around. It began when Meek took issue with Drake not shouting out Meek's Dreams Worth More Than Money album, which was host to the two men's "R.I.C.O." collaboration. Ultimately, the beef produced Drake's "Back To Back" hit and that inexplicable episode of Funkmaster Flex failing to deliver on a proper diss track from Meek Mill on Hot 97.
Meek and Drake's spat really began to come to a close after Drake voiced his support for the Philly rapper during his time in prison last November at a time when the hip-hop community was coming together to shine a light on gaping disparities within the criminal justice system in the United States.
Saturday night, Philadelphia 76ers owner and vocal Meek Mill advocate Michel Rubin hinted at the official end when he posted a photo of Meek Mill's wrist adorned with some ice and Aubrey & The Three Migos tour credentials.
"Legendary," Rubin penned under a separate video of Drake and Meek Mill onstage together.