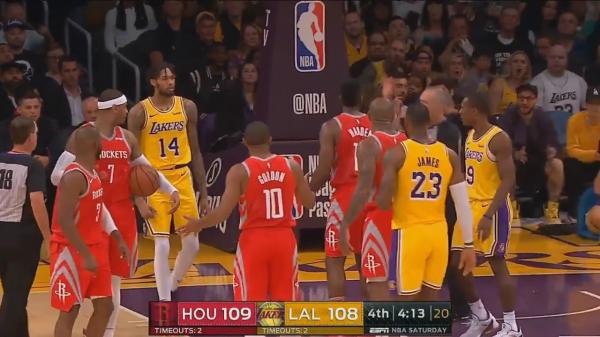 Chris Paul And Rajon Rondo Get into Heated Fight: Video
UPDATE: Woj reports the suspensions handed out by the NBA.
Sources: NBA suspensions – Brandon Ingram 4 games; Rajon Rondo 3 games; Chris Paul 2 games.

— Adrian Wojnarowski (@wojespn) October 21, 2018
Saturday night, the Los Angeles Lakers hosted their first home game of the season, as ESPN was looking to score big ratings with LeBron James playing his debut at Staples Center.
Their opponents, the Houston Rockets were also 0-1, looking for their first victory of the year, as both teams didn't want to get embarrassed on a national televised weekend game. Throughout moments of the game, Rajon Rondo and Chris Paul had back-and-fourth moments on the court, including CP3 looking down on Rondo after scoring in the third quarter.
With James Harden getting his usual bullshit calls against Brandon Ingram, who couldn't handle contact due to a weak frame, tempers flared up in the final moments of the night. Ingram was called for a foul on Harden, who blew by defense on his way to the rim.
Brandon initially pushed James out the way and was assisted away from action by Lance Stephenson. However, CP3 and Rondo were still talking, as Rondo allegedly spit in the face of the President, which was followed by a left hook. Ingram soon ran into the action and landed a hook on Paul, before being thrown out the game.
With LeBron playing peacemaker and not fighting with his teammates, Rondo, CP3 and Ingram were all ejected for the night. It's likely that Brandon could get the biggest suspension; with Rajon and Chris having smaller fines and suspensions.
Still winless, the Lakers play the Spurs tomorrow, where they could start the season 0-3.