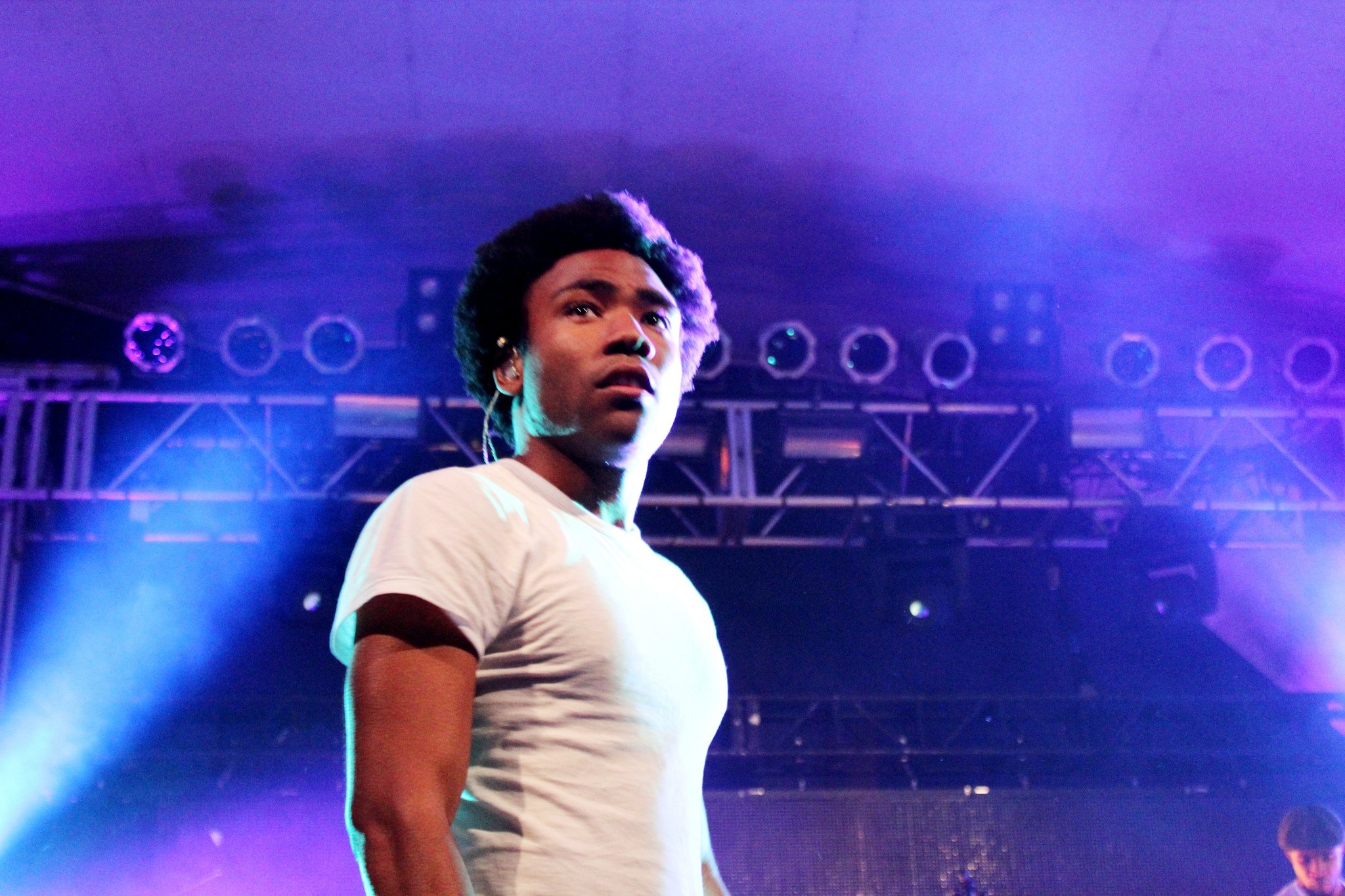 Rapper, comedian, showrunner, writer, actor, and now, wedding singer. Donald Glover is a man of many talents, occasionally brandishing his Childish Gambino persona to unleash some dope tracks for the world to experience. A lot of mystery shrouds this musical side, with fans only catching glimpses of teasers before he even drops anything every now and then.
This year, Donald Glover has primarily focused on acting and producing despite spending some time in the studio to record some music. This only made it even more special that he sang his powerful and moving love song, 24.19, at his manager Chad Taylor's wedding. Donning a plush white suit and performing with a live band, he sang a soulful rendition of the song for the newlyweds' first dance. This would mark the first time he has done a live music performance since the 2019 Austin City Limits Festival.
Credit – @atavista on TikTok
After finishing his performance, he said, "Congratulations, we love you. Thank you for changing my life." It's a touching tribute to a friend and professional partner that has been with him for over a decade. Starting out as his tour manager, Taylor would eventually be part of the Royalty collective with Gambino, Stephen Glover, Fam Udeorji, Ibra Ake, Miles Konstantin, and Jamal Olori.
After Glover released his album, 3.15.20, in 2020, he announced that this would be the last project under the Childish Gambino name. Even while it was still in production, the group had said that it would be the last album for the project and would serve as the final curtain. A year later, though, Childish Gambino would resurface for a reimagined cover of Brittany Howard's Stay High.
Other than these rare glimpses, it seems like the name Childish Gambino only appears when other artists like Beyonce and Drake are throwing shade. The Queen B allegedly called out Glover's hit show, Swarm (an allusion to the Beyhive,) in her Renaissance World Tour opener by saying "Swarm on these hands" while donning a bee outfit. Meanwhile, the Hotline Bling rapper called Childish Gambino "overrated" using his own tour's visuals, likely as a response to Glover revealing the Gambino hit "This is America" as a diss track before it became social commentary.
Of course, Glover has not put any energy into the beef and instead took some time out of his schedule to sing at his manager Chad Taylor's wedding. It's a rare opportunity to see Glover take on the persona and perform again, but it makes sense that he would do so for someone so close to him.
His iconic reappearance is another great example of the impact of hip-hop, soul, and R&B as a presence in weddings this year. The genre has seen a resurgence as millions of couples get hitched during the post-COVID wedding boom that has continued throughout the year. And this resurgence hasn't just happened in the US. In the UK, there has also been a huge uptick in the amount of hip-hop, soul, and R&B bands touring and doing weddings as they take inspiration from the likes of Childish Gambino. For instance, the most popular bands on Function Central specialize in those very genres. So, you may just hear a lot more of 24.19 at wedding receptions whether you're in the US, UK or anywhere else in the world.
As for Glover himself, acting and producing have been where it's at. This year alone, he has already appeared in the widely acclaimed animated film, Spider-Man: Across the Spider-Verse. It's considered great fan service as Glover has been largely regarded as the reason for the inception of the Miles Morales character in the first place. Leaning more into giving fans what they want, Glover has also confirmed his involvement in the long-anticipated Community movie.
His hit show Atlanta already had its series finale and Swarm will not have a second season as a limited series. That said, fans can see him return to the screen in the remake of Mr. & Mrs. Smith with Maya Erskine on Amazon Prime Video. It's worth noting that Glover also co-created and produced the show, continuing to stretch his show-running muscles more than his music for now.
Right now, Childish Gambino still rakes in 22.5 million monthly listeners on Spotify despite being mostly inactive. Fans may feel that there is a slight hole in hip-hop right now, but there are tons of voices that still dive into the surreal and meaningful takes that Gambino held. While Donald Glover stays within his Hollywood roots for now, listeners craving that boundary-shifting sound can turn to exciting new albums like Twin Hector's What a Time II Be Alive.