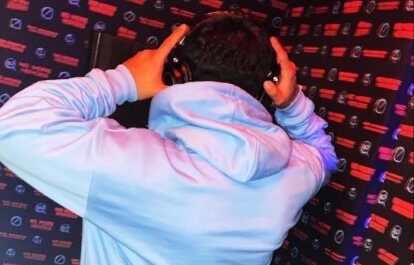 Chicago Artist Jdotgwuap is quickly making a name for himself in the music industry. The 23-year-old artist has already released two projects, with four tracks on SoundCloud, and is gearing up for much more. His music is versatile and has a little bit of everything, from rap to R&B, making it perfect for anyone who loves music.
Growing up in Chicago, Jdotgwuap was surrounded by violence and other hardships that pushed him towards music. He realized that music could be a powerful tool to help him escape the struggles he was facing and to provide a better life for himself and his family. This passion for music led him to pursue a career as an artist.
Jdotgwuap's favorite song so far is "Feeling Lonely," which showcases his lyrical prowess and ability to tell a story through his music. His music is not just about catchy beats and hooks but also has a deeper message for listeners to take away. He wants his listeners to pay attention to the lyrics and understand the message he's trying to convey. Jdotgwuap's music encourages people to follow their dreams, even if they seem impossible, and to never give up on themselves.
When it comes to influences, Jdotgwuap is inspired by Lil Baby, Lil Jairmy, Finesse2tymes, Lil Poppa, Youngeen Ace, G Herbo, Key Glock, Eladio Carrion, Annuel, and Myke Towers. These artists inspire him to create music that is meaningful, versatile, and has the power to reach a diverse audience.
Jdotgwuap's music is all about his personal experiences and how he overcame his struggles. He hopes that his music can be a source of comfort and inspiration for his listeners who may be going through similar hardships. His projects so far talk about the events and stages he went through in life while growing up and how music helped him cope with his problems and struggles.
In conclusion, Jdotgwuap is a rising star in the music industry. His music is versatile and has a message that everyone can relate to. He is passionate about helping others through his music and inspiring them to chase their dreams.
With his talent and dedication, Jdotgwuap is poised to become one of the biggest names in music in the years to come. Keep an eye out for this Chicago native, as he continues to make waves in the music industry.