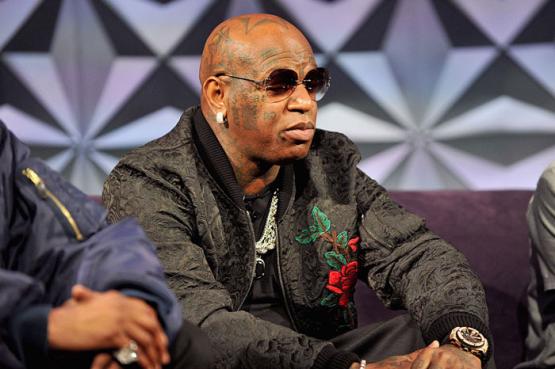 Birdman Phone Call Leaks In Lil Wayne Tour Bus Shooting
While Lil Wayne was celebrating the long-awaited release of Tha Carter V, Birdman and Young Thug were under criminal investigation.
The Cash Money boss and Atlanta rapper could be charged as co-conspirators in the 2015 shooting of Lil Wayne's tour bus. Following a 2015 nightclub performance in Atlanta, gunmen opened fire on the rapper's bus as it was leaving the venue.
Now, leaked audio from a phone call between Birdman and accused shooter Jimmy "PeeWee Roscoe" Winfrey has surfaced. On the call, a voice that appears to be Birdman's, can be heard telling Winfrey to collect his money in the murder-for-hire plot.
"It's time for you to come out here and get your money, man…You done did everything you could do," Birdman is heard saying on the call. "It's an eye-opener, bruh. Strictly business, man."
Civil lawsuit filing claims new evidence in alleged conspiracy between Young Thug, Birdman and man convicted of shooting Lil' Wayne's tour bus. Starting at 4, the role lawyers say this jailhouse call to Peewee Roscoe plays into the theory. pic.twitter.com/ilyiaLNztA

— Mike Petchenik (@MPetchenikWSB) September 28, 2018
After the shooting, Winfrey placed a call to a cell phone owned by Birdman, who has denied any involvement. Phone records also show that Young Thug called Winfrey eight times in the 12 minutes leading up to the shooting.
According to WSB-TV, Winfrey's conviction was overturned last year after the Georgia Supreme Court ruled that a judge improperly coerced him into taking a plea deal and accepting a 10-year prison sentence by threatening he would get more time if a jury convicted him in his court.
"Mr. Winfrey always denied being the shooter of the bus," said attorney Manny Arora, who represented Winfrey in his first trial.
The Cobb County District Attorney's office said it will decide in the next couple of weeks whether to charge Birdman and Thug as co-conspirators.