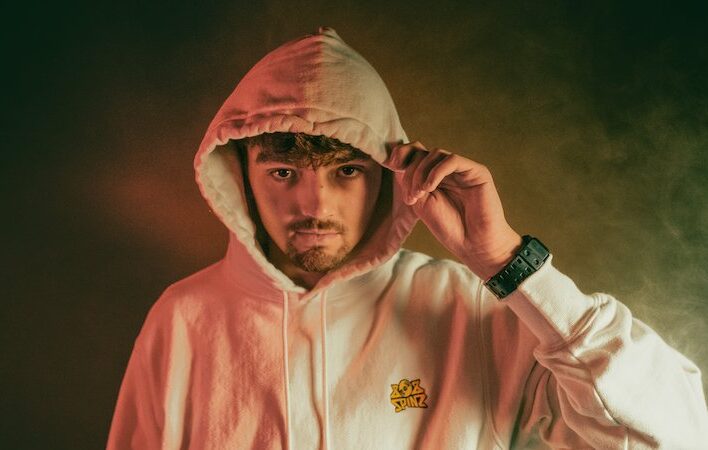 Virginia-hailed producer 808SpinZ returns today with new single "DOTS" ft. KFamouz, which shows a new side of his musical output – one that is impressingly different from his previous releases. Serving as the first follow-up since his full-length 2020 project 'B-Side,' "DOTS" is also the lead single to his forthcoming project, 'Love and Transactions,' coming out October 21st, which features a stellar list of collaborators including Paris Bryant, 24Lefteye, Kfamouz, Wiardon, and more.
Listen to "DOTS" HERE.
"DOTS" is part of a larger compilation, made specifically for the upcoming album. Recorded by DSims, KFamouz and SpinZ compliment each other's styles throughout the track.
Of the creation and meaning behind "DOTS," 808SpinZ shares, "This record is special to me. Coproduced by DB, this is one of the first songs Famouz and I ever did. You can feel Famouz's passion for the music and hustle in his voice and lyrics."
Always having loved music since he was young, 808SpinZ got his start making music in highschool, where first learned to create beats. He was introduced to hip-hop and rap music specifically through his father, and says he instantly fell in love with the sound. Growing up listening to the likes of Dr. Dre, Eminem, and Snoop Dogg inspired 808SpinZ to fully explore the genre and discover trap and R&B as well, which he incorporates into his beat-making. He also credits Metro Boomin, Southside, Zaytoven, and TM88 as a few of the producers he's inspired by.
"When it comes to business and hustle, I look up to my brothers BagTalkZach, DSims, DB, and RicoSoDope," he says of others who inspire him. "Their work ethic and energy push me to go harder every day."
By the age of 16, 808SpinZ was able to grab the attention of labels and A&Rs and record in prestigious studios across the country.
Now at just 20 years old, 808SpinZ has proven himself as a multifaceted producer who has produced for Gunna/Shady Babies, Lil Double 0, Goonew, Lil Dude, Xanman, and many more.
However, 808SpinZ is setting admirable goals that impact the people around him. In fact, with dreams of developing his own artists someday, 808SpinZ also has plans to provide opportunities for artists on the rise.
"I would ultimately like to grow my studio into a record label where I can show young, talented, passionate artists the ropes and give them a platform to succeed," 808SpinZ says.
As of now, 808SpinZ is working on opening his own studio in the city he's currently based in, Nashville, Tennessee. Thinking of a plan and executing it comes naturally for 808SpinZ, given that he's accomplished everything he's set out to do thus far.
"DOTS" marks a step into a new realm for 808SpinZ, and sets the tone for what audiences can expect from his forthcoming project Love and Transactions, due Oct. 21.
"DOTS" ft. KFamouz by 808SpinZ is out now, stream it here: