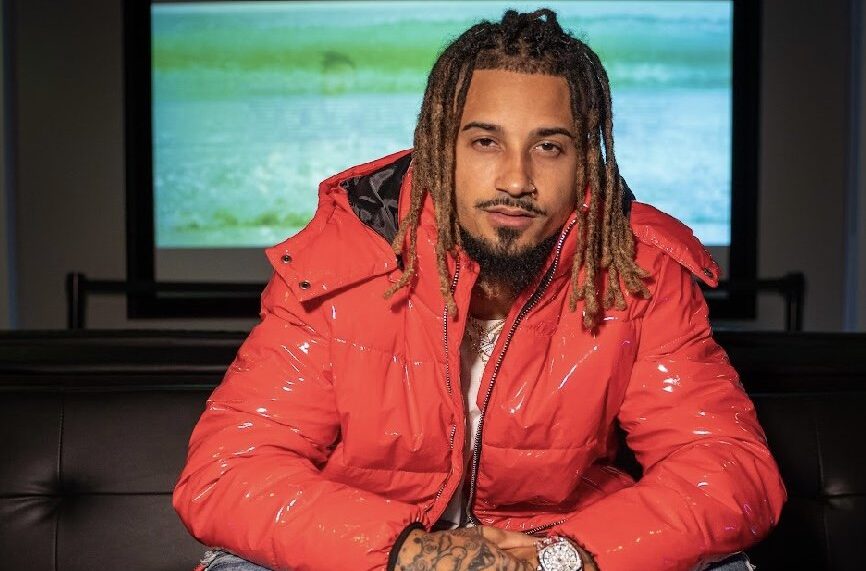 1.) How would you describe your music?
I would describe my music as a reflection of who I am as a person. I am not really the social type, so I try to show people who I am through my art. With that said, at times sensual, motivational and emotional.
2.) Tell us about your latest releases
For my first release in 2023, March 31, I dropped an album entitled "How It Had To Be". It had no features as I wanted to showcase my versatility to rap and sing. The project genres included: Afro-beat, R&B, Hip-Hop and Pop. Some months after that, I released a joint EP with Khalil Lyonz entitled "RIDE". This project contained mostly R&B with two Rap bangers mixed in. Shortly after, August 26, I dropped an EP entitled "Love Me Not". This project was basically a collection of ratchet anthems for my core hip-hop fans (no features). My most recent release dropped on September 15 with Umraan Syed entitled "NO PAIN". This record in my opinion is the only time I've ever crossed over into the Rock genre. The lyrics are powerful and edgy. Umraan added some incredible elements to the original production. I can't wait for us to perform this live in concert.
3.) Describe your creative process
My creative process is quite lonely. I am always by myself in a dark room. I like to shut everything else out and just feel the music. I never write outside my sessions. For every single record I begin by free-styling melodies and then doubling back on lyrics.
4.) What do you enjoy most about being an artist?
My favorite thing about being an artist is the expressive aspect. I can literally say whatever I want on a record and nobody can stop me. Authenticity for me is key.
5.) What is your main inspiration?
My main aspiration is to be free. That goes for life outside music as well. Not only have many of us been slaves to others but also to our own decisions. I want to create a legacy that lasts long beyond my lifetime.
6.) What musician do you admire most and why?
It's really so hard to pick one but Drake stands out the most to me. Seeing how great he is and still having a massive amount of haters. On a smaller level I really can relate to it. So it motivates me to keep striving to be my best.
7.) Peace to you is…
Peace to me is financial stability and creative control. I've recently started to see a lot more success independently, especially with this new record with Umraan Syed.
8.) What's next for you in 2023?
In 2024, I'm planning on dropping another album. I like to do one a year and really push my limits. I'm also trying to organize a tour.
9.) Where can we find your latest releases?
All my releases can be found on most major streaming platforms. However, Spotify has the most complete version of my catalog. All you have to do is search "Zacc P".
10.) Any last words for the readers?
Not much else to say other then than
"N O P A I N" by Umraan Syed and Zacc P is a poignant reflection on vulnerability, ambition, and inner resilience. With its captivating blend of dark trap and rock influences reminiscent of masterworks by Mike Dean with Travis Scott and Kanye West, the song grabs you immediately and refuses to let go. The seamless synergy between Syed and Zacc P delivers an anthemic chorus, with lyrics that are both introspective and defiant. The production, layered and atmospheric, perfectly complements the raw emotionality of the lyrics.
On first listen, the haunting cadence of "N O P A I N" lingers in the mind, a testament to the intricate production work by Umraan Syed, Lui Piluso, and Andre.on.beat. Syed's verses evoke a sense of melancholy intertwined with determination, while Zacc P's lyrics hint at personal battles and a desire for authenticity amidst chaos. The song, with its Metro Boomin-esque vibes, is a testament to resilience and the eternal human struggle to overcome pain.
Charting new territory in the dark trap genre, "N O P A I N" is an auditory experience. The lyrics oscillate between bleak realism and hopeful aspirations, with the recurring motif of overcoming pain taking center stage. Syed's and Zacc P's verses intertwine seamlessly, showcasing the incredible synergy between the two artists. Production-wise, the rock influences make this track distinct, adding an edge that sets it apart from contemporary releases.
An artful blend of dark trap and rock, "N O P A I N" captures the zeitgeist of the current music scene. Umraan Syed's introspective lyrics beautifully counterbalance Zacc P's more confrontational lines, making for a dynamic listening experience. Drawing comparisons to the likes of Kanye West and Travis Scott, this song cements Syed and Zacc P's positions as artists to watch in the coming years.
If there's one track that encapsulates the raw, unbridled emotion of dark trap with a sprinkle of rock edge, it's "N O P A I N". The lyrics, written by Umraan Syed and Zacc P, resonate with a sense of melancholy and determination to rise above the challenges. Produced and arranged by a stellar team including Lui Piluso and Andre.on.beat, the song promises listeners an aural journey they won't easily forget.
Connect:
IG: @iamzaccp
IG: @umraansyed