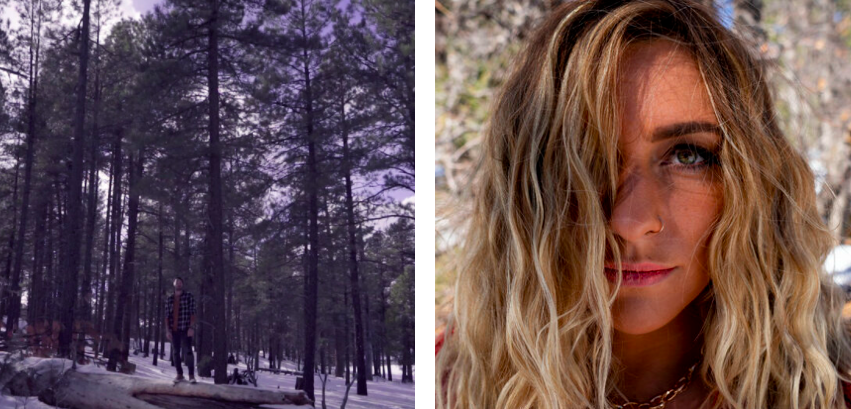 Multi-genre duo TYCHE (Saydi Driggers and Jake Briggs) are stepping onto the scene with a gutsy debut pop single and music video "I Don't Have Depression". The song was the first one Saydi wrote after she and Jake decided to leave their hectic life in Arizona and head to Los Angeles due to a lacking fulfillment with their current lives. "I had friends, a popular band, and a fun lifestyle but I was lying to myself about being happy," says Saydi. "So in this song I'm kind of lying to myself too." She found herself surrounded by things she didn't truly care about and knew she needed to reevaluate herself as a person. "The song isn't the change, but the realization that I needed to make a change."
The singer-songwriter says she used to struggle with feeling okay about being depressed, but has since realized the benefits of being gentler on herself. "Life is hard and I've learned to embrace my emotions honestly as they come." TYCHE hopes "I Don't Have Depression" will resonate with others to help them feel not alone in their struggles. The lyrics certainly resonate with listeners – touching on the inner dialogue someone has within themself in an attempt to ignore the bigger issue at hand. "Gonna get a new tattoo just to prove I don't have depression," Saydi sings over a vibrant beat. Co-produced with Andrew Maury, the single incorporates sounds from folk, rock, pop, and electronic music. While the message is heavy, "I Don't Have Depression" can also be a fun dance track for fans wanting an escape. The single will be accompanied by a self-directed and shot music video based in Northern Arizona.
TYCHE is a multi-genre duo based in Los Angeles. Members Jake and Saydi moved to California from Arizona in 2019 to create TYCHE in order to get back to writing and playing the music that they always wanted to play. "We were able to write songs about sadness, anger, loss, and numbness," says TYCHE. "Our only barriers were the limits we put on ourselves." The new duo is making an effort to create music that not only feels true to them but also songs that will resonate with listeners. "We want to reach the ones sitting in their room listening by themselves, and the ones that live for party anthems.
We won't have a song for everyone, but we love our fans and they each love us in a different way." TYCHE is a clear reflection of who they are to their core and the music they believe the world deserves to hear. Saydi says, "As a kid I remember feeling like the songs I was listening to were the only things that truly understood me. Music made me feel not alone, and my goal in life is to help those who feel alone like I once did." Jake has a similar relationship to music saying, "Music always helped me deal. I taught myself how to play [drums].
Since then it's been my constant through life and I've relied on playing to get me through all the curves that come with growing up." Combining Jake's pop-punk and hip-hop background and Saydi's classical, modern pop, and blue background, TYCHE creates unique but welcoming soundscapes for listeners in all genres. Their genre-bending is aided by cinematic elements and intensity, with each song coming from a story unbound by the rules.