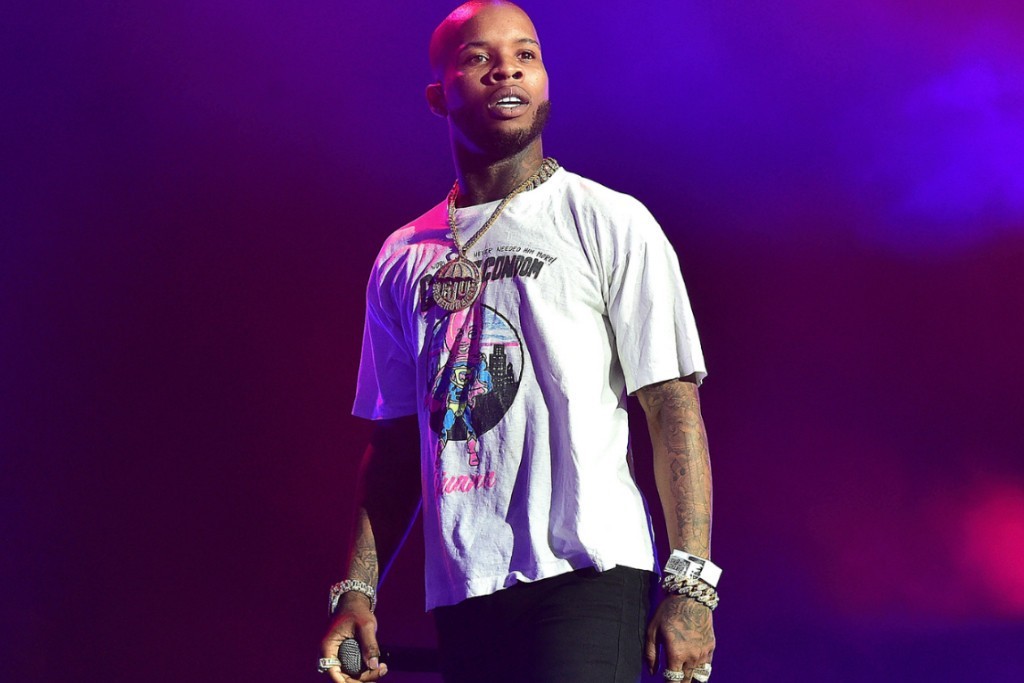 Feb 17, 2021, 18:10pm EST — Tory Lanez was trending on Twitter on Tuesday evening, and it was over photos that surfaced of him playing basketball.
The photos showed a photo that was taken from below, which seemed to show Tory's patchy bald spot on the top of his head. From a front view, the bald spot wasn't noticeable.
Back in 2019, Tory revealed that he had a hair restoration procedure to fix his hairline after he started showing signs of balding. During an interview, Tory explained, "It's not Bosley, though … that's when they slice your head and do all this weird sh*t. I didn't do that. My sh*t is more so natural. I met a doctor that does hair restoration—thatis specifically for African American and Latino hair. So, basically, I was going away on my corners. They help me do the restoration."
I can see why Tory Lanez gets angry easily. pic.twitter.com/eDBGvW4b9T

— jason bolaños (@JBinAV) February 17, 2021
Tory has yet to respond to the photos, which you can check out above.
Tory Lanez gotta get a refund with his hair transplant … I low key think tyga set him up and gave him the wrong doctor. That patch in the middle of his head widening by the day. pic.twitter.com/us6qsK3gDF

— DJ Akademiks (@Akademiks) February 14, 2021
D'Fuck 😂 pic.twitter.com/yGCglDxOQw

— Big 🐰 (@FreddieGibbs) February 17, 2021
bruh 😭😭😭😭 pic.twitter.com/OG5fEBTxv1

— court🍯. (@forever_lashaun) February 17, 2021
Tory Lanez hair look like he been in the electric chair about to die and then the warden ran in and stopped it at the last minute 😂😂😂😂😭 pic.twitter.com/OntXtPYd2s

— Doc 🦂 (@humble1025) February 17, 2021
Tory Lanez said: pic.twitter.com/6Rq1NyqCNa

— Legally Mo ⚖️ (@mo_money1797) February 17, 2021
Kevin Durant when he saw the top of Tory Lanez head pic.twitter.com/EC0rb5z8wj

— Rich (@UptownDCRich) February 17, 2021
Tory lanez reading all your tweets about his hair pic.twitter.com/SlSyqmOH12

— Can i Say it? (@canisayitonce) February 17, 2021
Tory Lanez looking like he's had a few Gorilla Glue incidents pic.twitter.com/dhsj9rgiq2

— laire (@laire) February 17, 2021
in recent news, Benny the Butcher Drops New 'Go Crazy'Freestyle