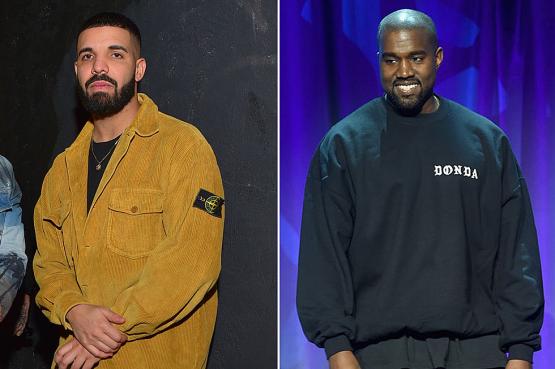 Mar 07, 2021, 14:40pm EST — In recent years, we've been seeing Kanye West go to social media and randomly call out Drake, when he's about to release content. This became evident, when he released the entire G.O.O.D. Music 2018 collection, during Drake's last album, Scorpion. With Pusha T stepping in to pinch hit for his friend, those issues were thought to be resolved last summer, when Drake offering an olive branch to Yeezy.
Soon after, Kanye called out Drizzy for an apology, that led to that idea of the war ending over. This was during the weeks many were expecting his DONDA album to arrive, but it never did. Then, last month, reports surfaced that Mr. West was getting a divorce. Since that time, neither party has officially released a statement about the situation.
On Drake's Scary Hours 2 album, he dropped the lines, "Yeah, I probably should go link with Yeezy, I need me some Jesus. But soon as I started confessing my sins, he wouldn't believe us." Many believed this had to do with a personal matter with Kanye. However, it was just coincidental, as that track was made a few months ago and Drake decided to just leave it as is.
Now, you're wondering why this track released, with a serious jab at Mr. West. Well, it's simply because Kanye has been using Drake as promo for his business announcement and music in recent years. As a returned favor, Drizzy trolled Ye with the new track, that has many talking about the elephant in the room.
While the biggest track on the project is "Lemon Pepper Freestyle," the most talked about song is lines on "Wants and Needs." With Kanye out of the picture for the moment, following his failed Presidential bid last fall; we'll be curious if he decides to address this.
Scary hours.

— Drizzy (@Drake) July 29, 2015
hardly hardly hardly forget anything.

— Drizzy (@Drake) October 29, 2014
I've never been about beef    I'm about love    lines were crossed and it's not good for anyone    so this is dead now

— ye (@kanyewest) June 2, 2018
Niggaz gon run that Quentin shit in the fkn ground like Drake don't write 4 himself & OTHERS! Ya enemies will remix, reinvent & TRY 2make u RELIVE some old shit for YEARS 2 come when they have NOTHING ON U! Knock it off. Challenging the chosen ones only awakens the sleeping giant

— Mrs. Petty (@NICKIMINAJ) May 27, 2018