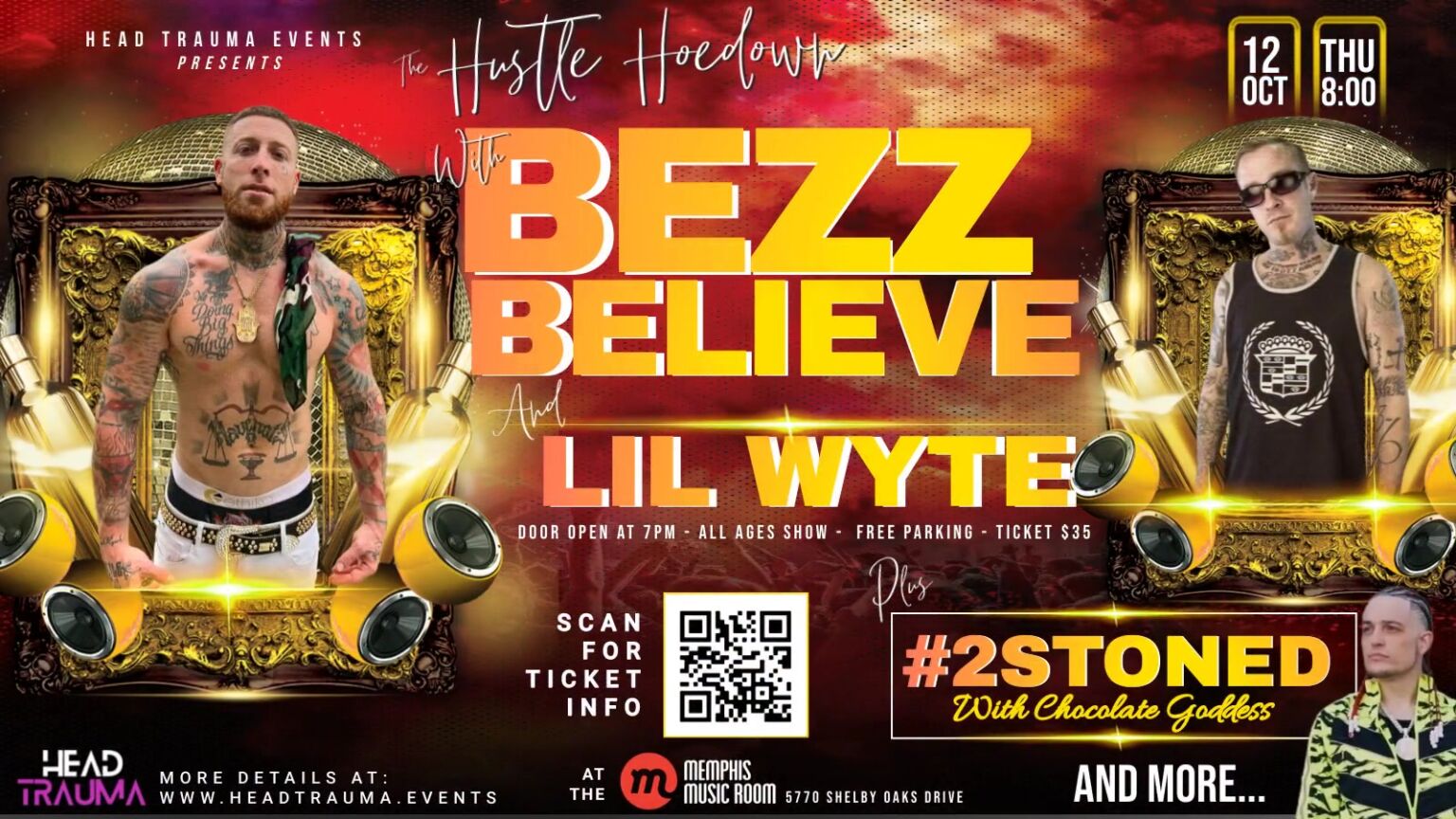 Head Trauma Events is bringing some of the most down-to-earth hip-hop hustlers to Memphis. This show features Flordia rapper Bezz Believe, who has quickly risen in the rap & hip-hop music scenes, and Memphis' own legendary Lil Wyte. Plus, influential Texas rapper #2Stoned will be appearing with the talented female vocalist Chocolate Goddess. Joining them on this special appearance at the Memphis Music Room is are several other artists, that we have not yet announced.
Bezz Believe
The Hustle God, Bezz Believe, is a powerful and talented rapper, who launched himself into the limelight with the hit single "Herculeez", which featured in Dwayne Johnson's 2014 blockbuster movie, Hercules. He is best known for his collaborations with Kevin Gates, "Disappear" and "Fade Away", which have garnered 13 Million and 11 Million views on YouTube, respectfully. He is the real deal, who's recorded songs with artists like Gucci Mane and Struggle and who's opened the stage for big-name rappers, like Drake and Big Sean. He's not afraid to go against the status quo, with songs like Country Trapper, Supa Cracka, and, more recently, Conservative.
Lil Wyte
From Memphis, Tennessee, he one of the founding members of Hypnotize Camp Posse, consisting of DJ Paul and Juicy J of Three 6 Mafia fame who rose to fame in 2001 with his debut album Doubt Me Now. The album, produced by Three 6 Mafia and featuring appearances by Project Pat and Juicy J, was a critical and commercial success and spawned the singles "My Smokin' Song" and "Phinally Phamous". In the years following his debut album, Lil Wyte released several more albums and mixtapes, including The Bad Influence and I Got This on Lock. Lil Wyte is considered to be one of the most influential rappers from Memphis. He has been credited with helping to popularize the Memphis sound of rap music.
#2STONED
An up-and-coming Texas rap artist who embodies Texas Hip Hop. He has opened or performed with a list of big names including Snoop Dogg,  Juvenile, Lil Flip, Dirtball Of Kottonmouth Kings, Three Six Mafia, 22 Savage,  Juicy J, Blac Youngsta, and many more. After, linking up with Lil Sicc to create the hit single "White Silk Pants", dropping his first official single "Marshmallow", and releasing an official music video with Paul Wall titled "Slabbin & Dabbin", he's on his way to becoming the next hip hop legend.
AND MORE…
Get your tickets here: