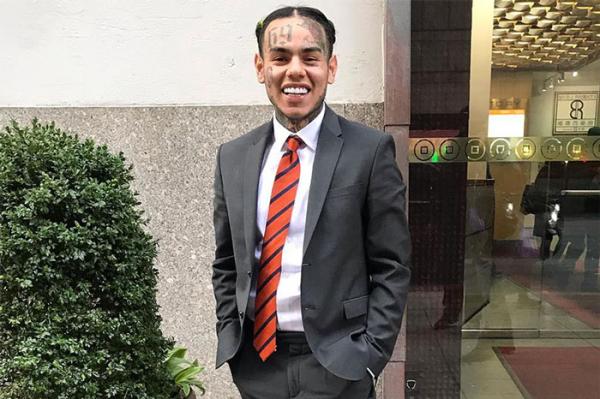 Tekashi 6ix9ine Sentenced to 4 Years Probation in Child Sex Case
6ix9ine was sentenced to four years probation in Manhattan court on Friday (Oct. 26).
As part of his probation, the rapper, born Daniel Hernandez, must complete 1,000 hours of community service and avoid additional arrests and any gang association.
The sentence marks a victory for Tekashi and his legal team. The Manhattan District Attorney's Office was pushing for him to spend one to three years in state prison and register as a sex offender. The judge gave him credit for one year, so he has three years of probation left.
"I have millions of youth that look at me as a role model and the last place I want to be is incarcerated, they don't deserve it. Thank you," the "FEFE" rapper told the judge.
His legal troubles date back to October 2015 when he pled guilty to one count of Use of a Child in a Sexual Performance. Prosecutors claim Tekashi was at a party where a 13-year-old girl was filmed engaging in sexual acts with another man while Tekashi, who was 18 at the time, stood "behind the child making a thrusting motion with his pelvis and smacking on her buttocks."
Under the terms of that deal, the case would be closed if he remained on good behavior for two years. However, Tekashi was arrested twice during May 2018 for allegedly attacking a 16-year-old in Texas. The same month, he was also arrested in Brooklyn for allegedly driving with an expired license and assaulting a police officer.
If he is arrested again, he could be resentenced and face prison time. "Daniel understands what he must now do moving forward and we will be with him every step of the way," his rep told TMZ. "We also want to thank the judge for being very fair and impartial."