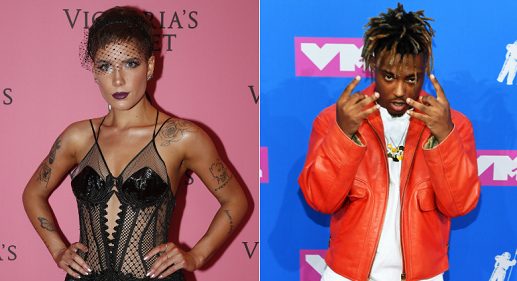 Stream Halsey Without Me Remix Ft Juice WRLD
Halsey and Juice WRLD teamed up to reimagine Halsey's mega-hit "Without Me," and we are so here for it. The singer teased the new version earlier today, with the track hitting streaming services at midnight.
Halsey also released a seven-inch special edition vinyl for "Without Me." Side-A will include the original track while Side-B features an Illenium remix version.
The vinyl is available for preorder here, with purchases expected to ship April 19. Upon purchase, you will receive digital versions of both of the vinyl's tracks as well as the reimagining featuring Juice WRLD.
"Without Me" is the first No. 1 single for Halsey's solo career having previously reached it with her blink-182 shout-out on the Chainsmokers' "Closer."
According to Halsey's tweet, the rapper actually asked her to be a part of the track, which was released in celebration of hitting No. 1.