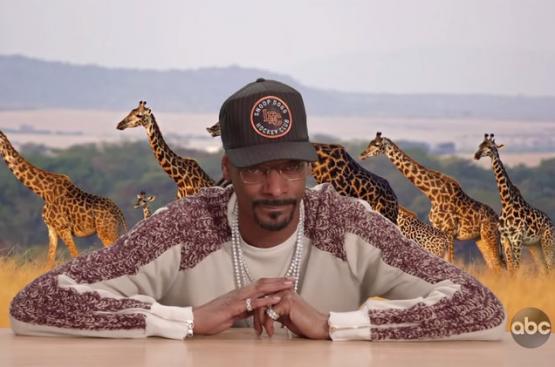 Snoop Dogg's Latest Plizzanet Earth Segment On 'Kimmel' Is a Must-Watch
You can Stream have your David Attenborough, but when it comes to truly hype nature documentary narration, we'll take Snoop Dogg any day.
The rapper was back on his zoological grind on Tuesday night (Sept. 25) for the latest edition of "Plizzanet Earth" on Jimmy Kimmel Live!, in which the Doggfather broke down an epic nocturnal struggle between a bat and a scorpion.
"Uh oh, Batman! That's a big-ass bat, too!" Snoop said, breaking down the infrared footage in layman's terms for the audience. Describing how the bat was eyeing a potential scorpy snack, the rapper warned the flying mammal to be careful of the arachnid's vicious sting. "Watch out cuz, back up!" he said. "Yeah, [just] cuz you big don't mean nothin' cuz you may get hit!"
The struggle was real, as the two warriors battled it out to Snoop's energetic play-by-play, ending with the sobering conservationist's mantra: "Bye bye bitch."
Watch "Plizzanet Earth" below.