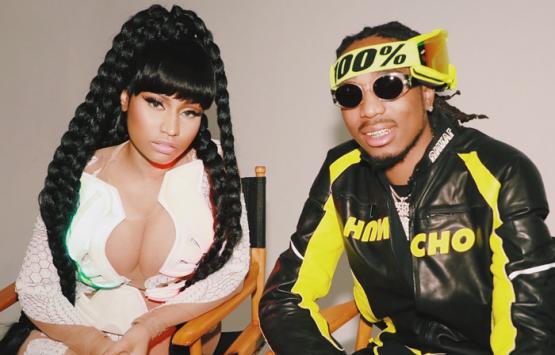 Quavo Responds To Nicki Minaj On Huncho Dreams
Quavo is going on record about his rumored relationship with Nicki Minaj.
The Migos rapper's solo debut Quavo Huncho arrived Friday featuring the Murda Beatz-produced "Huncho Dreams," which has been deemed a response to Minaj's "Barbie Dreams."
On her Queen single, Nicki makes reference to rappers including Quavo. "Somebody go and make sure Karrueche okay, though / I heard she think I'm tryna give the coochie to Quavo," she raps. "They always wanna beat it up, goon up the pussy / Man, maybe I should let him Auto-Tune up the pussy."
https://youtu.be/Ja4cpA_yNRM
In response, Quavo exposes their rumored romance on the aptly-titled "Huncho Dreams." "She said I hurt her feelings 52 times / Call up Queen (Nicki) / The Queen can't flex on the young bull / Made her scream / Chanel, I bought her two 'em / You can check IG / 'Cause when she post, go up / Is she for keeps? / Only if she come with two 'em / Yeah, I be snipin' / I can't be wifin' / I know she feisty / I'm Huncho Bison / She treat me righteous."
https://twitter.com/NickiMReports/status/1050555379275329538?ref_src=twsrc%5Etfw
He continues with more Minaj-inspired rhymes that insinuate they had a relationship. "Ni**a don't mean to brag / I be tryin' to keep it cool, but I sniped yo' ass / No 'FEFE,' I skeet-skeet on yo' face ass / Called up Huncho to come tap that ass / Pull up on you, Auto-Tune when I grip that ass / Pullin' on yo' weave, 'cross the room when I pipe that ass / I see a queen on a tree-tree / She like the ride new boy tree-tree / I see a queen on the tree-tree / She like the ride that boy tree-tree / Nicki, do you love me? / Why you crying? / She don't wanna be a queen unless she got me / She don't wanna be on scene unless we married / No cap, for real / Tea in my double cup, it can't spill / Left the fire on the dresser at the hotel / Drunk as hell, made her cook some RO-TEL / If the truth hurt, then I won't tell."
During his "Huncho Reality" listening experience in Los Angeles last night, Quavo brought the song to life. While "Huncho Dreams" played, a Minaj impersonator was seen opening up a Chanel purse while screaming and crying.
https://twitter.com/AniCaribbean/status/1050783413550993408?ref_src=twsrc%5Etfw
The scene was a nod to Minaj's own Instagram video from July of her excitedly opening two Chanel bags, which Quavo reportedly gifted her. "Thank you you know the way to a Barbie's ♥ ," Nicki captioned the video.
Minaj has yet to address "Huncho Dreams," but don't be surprised if she does during today's episode of Queen Radio.