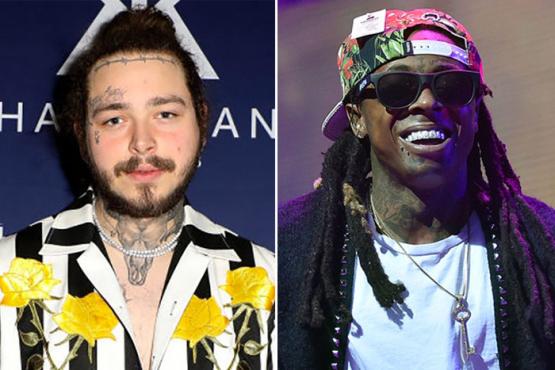 Post Malone To Be Featured On Lil Waynes Carter V
With just hours until Lil Wayne drops Tha Carter V, more details are starting to emerge about the highly-anticipated guest list.
One artist who reportedly made the tracklist is Post Malone. According to TMZ, Weezy reached out to the "rockstar" hitmaker earlier this week and he quickly ran to the studio to cut a record.
Malone turned in his part Wednesday night and the track was mixed in time to make Wayne's album release tonight. The Malone collaboration is the last track to be added to C5.
"I always give y'all all of me, but with this album, I'm giving you more than me," Wayne said in a video earlier this week. "You gotta always remember that this is years of work. This is four, five, six years of work that you'll be listening to. I hope you enjoy it. You don't have to love it, you don't even have to like it, just hope you enjoy it."
The late XXXTentacion will also reportedly be featured on C5, according to Rapup.co. A rumored tracklisting has been floating around the internet and includes features from Drake, Kendrick Lamar, and Justin Timberlake. However, nothing has been confirmed.
Tha Carter V arrives at midnight, more than seven years after Tha Carter IV. Wayne, who celebrates his 36th birthday today, made the official announcement this week. "I will be releasing Tha Carter V on my birthday," said Weezy. "Y'all hung in there with me, so I can't do nothing but thank y'all for all the love and all the passion and every ounce of anything."
Kanye West is also releasing his album Yandhi on Saturday. The two will face off on the charts next week, but Kanye has no problem placing runner-up to Weezy. "We're releasing Yandhi Saturday night," tweeted Ye. "We know it will come in number 2 to my brother Lil Wayne and that's lovely. The universe needs Ye and Wayne music at the same time."
we're releasing Yandhi Saturday night

We know it will come in number 2 to my brother Lil Wayne and that's lovely

The universe needs Ye and Wayne music at the same time

— ye (@kanyewest) September 27, 2018