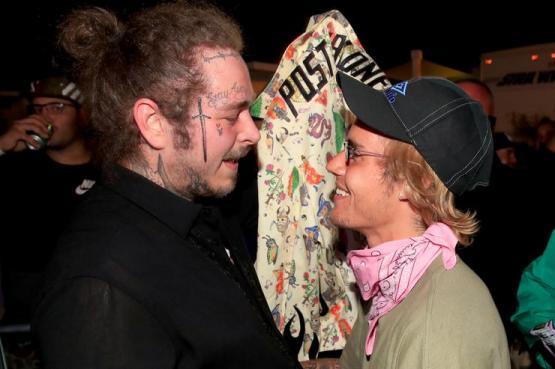 Post Malone Says His First Tattoo Was Inspired By Justin Bieber
Post Malone says he got his first tattoo because of Justin Bieber. One of the most popular hip-hop Halloween costumes this year is of Post Malone's face tattoos. In the span of a few years, the man has gotten nearly his entire face covered in ink. The look is not desirable to most but, he has sung about being a "Rockstar" in the past so this certainly is a true dedication to his character.
Believe it or not, there was a point not so long ago in his career when he had zero tats on his body. While working on his ultra-successful project Stoney, Post was in the studio with Justin Bieber and the Canadian apparently inspired him to get his first tattoo. Malone was a guest on The Tonight Show Starring Jimmy Fallon last night when he spoke about his upcoming music, how he got started, and his recognizable look.
The singer is one of the biggest names in the world and has a memorable visage with all of his permanent markings but he revealed that he was once terrified to cop some body art. "We had a tattoo artist come through, and then I was just like, 'You know what? Justin Bieber's got some tats. And, I love you, but I know I'm way tougher than you," said the Dallas-raised artist. He continued by saying that it's a "pretty shitty" tattoo of a Playboy bunny on his arm.
Bieber was apparently not a fan of being told he was less tough than Post Malone because a few days after the "White Iverson" singer got inked up, they met on the basketball court when Biebs "knocked the whole thing off," resulting in the tattoo looking like it was "dropped in lava." Definitely not a good look.
Post has come a long way since then, both in terms of his music and his look. Check out the clip below.
https://youtu.be/W6kbdyIC37k