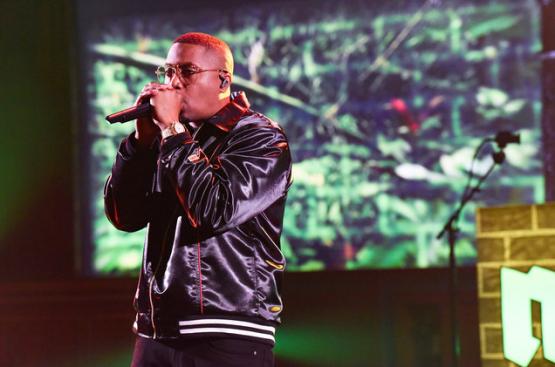 Nas Colbert Interview Performance Videos
Nas' relationship with late-night host Stephen Colbert dates back to the release of his Untitled album at the turn of the decade. Escobar season continued months after the release of his Nasir album with a brief interview appearance on the Late Show With Stephen Colbert and performance of "Adam and Eve" Tuesday night (Sept. 25).
The 45-year-old reflected on recording in Wyoming and even mentioned an unlikely encounter with a sick moose. "The people were great and [Wyoming] is one of the most beautiful places I've been to," Nas told Colbert. "It was the last place I thought I would record an album. We were there and nobody bothered us. It was a good time. Kanye [West]'s the kind of guy who needs to be away from everything."
The Queensbridge native then made a quick wardrobe change and hit the stage for a soothing rendition of "Adam and Eve." He was assisted on the performance by DJ Green Lantern, his musical director Eddie Cole filling in for The Dream, and Colbert bandleader Jon Batiste on the piano.
Watch Nas' interview and performance on Colbert below.