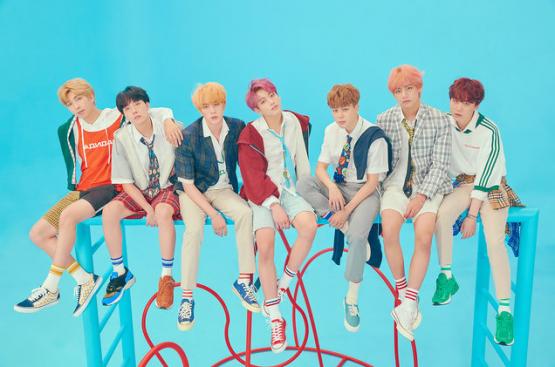 BTS GMA Videos – BTS Make Their 'GMA' Debut With Epic Performance Of 'Idol': Watch
The group also sat down for an interview.
The seven members of BTS and their fan ARMY descended on Times Square this morning (Sept. 26) for their first appearance on ABC's Good Morning America. The GMA episode marked BTS' first-time ever appearing on a national Stateside morning show.
During the interview session with Michael Strahan and Robin Roberts, the group credited the success of "Idol" to hard work and ARMY, spoke about their speech at the UN, their sold-out Love Yourself tour, and their Love Yourself: Answer album. BTS also showed off some of their moves from their latest single "Idol," which they later performed.
"We thought that, you know, the most thing that especially the young generation needed is that true love begins, first begins with loving myself," RM explained about the album's message. "We thought that reminding [the] words of 'Loving Yourself,' it's not rare these days, now, but I think just reminding these words to the world could have some meaning to the ARMY and ourselves.
So we thought true love first begins with loving ourselves and we're trying to love ourselves too, and I hope the ARMYs can do the same." The night before, BTS appeared on The Tonight Show Starring Jimmy Fallon.
Check out BTS' appearance on GMA below.