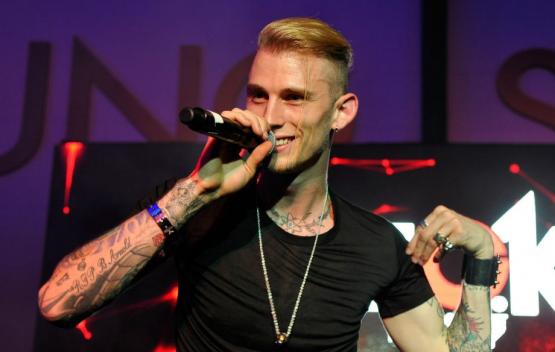 MGK Beatdown Of Actor Was Ruthless New Video Footage
MGK's crew absolutely pummeled G-Rod in new surveillance footage. It was only a matter of time before surveillance footage of the attack was released to the world. Machine Gun Kelly and Eminem have been involved in a war of words for years with tensions ramping up after Kamikaze was released.
Slim Shady and MGK decided to go about their differences on wax but in the streets, Kellz and his crew don't seem to be the type of people you want to mess with. Last month, the 911 call was released from the "Rap Devil" rapper's attack on actor G-Rod after he referred to the artist as a "p*ssy" for his tweets about Eminem's daughter years ago. Now, video footage has been unveiled and his entourage definitely did their job.
Binge may not have sold very well but at least Kelly has some serious back-up on his side. TMZ recently released a video showing the fight breaking out, which begins with a man running up to G-Rod and bodyslamming him onto the floor. Kellz' crew seems to have him surrounded too as a handful of men came from behind the actor, stomping down on him and kicking him repeatedly.
The employee at the front desk remained stunningly calm throughout the entire ordeal, slowly walking over to the phone to presumably call 911. Once the attackers felt they had done enough damage, they walked away but it appears as though one of them actually spit on Rodriguez before storming off. Machine Gun Kelly is not pictured in the video.
The beatdown is seriously brutal. According to the publication, the footage was taken from a hotel 2 hours after the initial altercation. G-Rod was badly injured during the attack but he's said that he would drop any potential charges if Kelly decides to step into the octagon with him for an MMA-style bout.