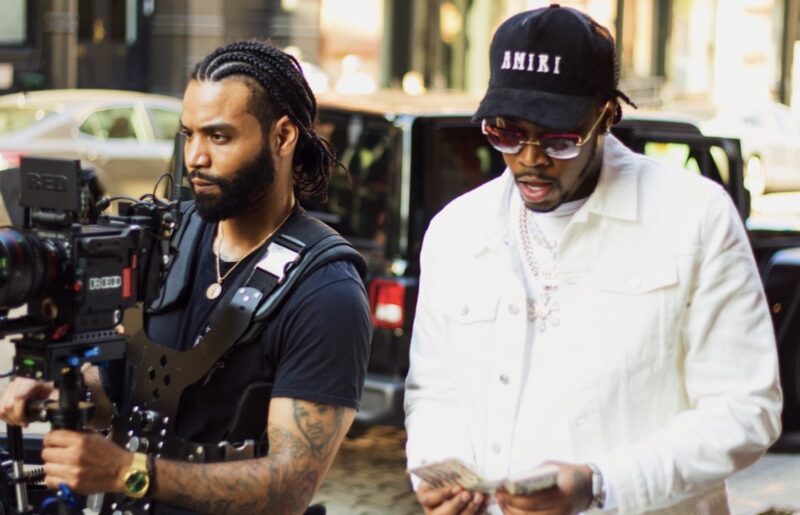 New York native JLShotThat is responsible for some of the best visuals to be blessing the music scene right now! Originally from Hollis Queens, NYC, JLShotThat is a music video director who shoots and edits all of his videos. He currently resides in New Jersey. JLShotThat is best known for making some of the best Brooklyn drill music videos for artists like Pop Smoke and Fivio Foreign. 
"I've shot some of the biggest Brooklyn drill videos including Pop Smoke's 'Dior' and Fivio Foreign's 'Big Drip,'" the director said in a recent interview.
JLShotThat got his start when his friend needed his help shooting a campaign for his brand. Originally, JLShotThat was a musical artist but found out his talents and passion lie elsewhere, behind the camera. His inspiration when filming is to bring what the artists want into creation. JLShotThat has a unique attribute when filming, which is knowing "how it feels to be in front of the camera and apply it" to the shoot; he originally was a musical artist and used his idea of what he wanted and looked good to other artists, creating a new perspective and angle for the artists work. 
His resume includes certified hits from Pop Smoke and Fivio Foreign, whom JLShotThat regards as not just friends but family, "brothers," that he is insanely proud of and humbled by their work in the community as well as in the booth. 
JLShotThat is responsible for directing, producing, and editing Pop Smoke's "Dior" music video in their hometown of New York. The visual for Pop Smoke's "Dior" shot with precision and flair showcase JLShotThat's style as a  videographer. The track is edited flawlessly and matches the transitions of the video, making a fun and entertaining visual, garnering over 264 million streams. 
His work on Fivio Foreign's "Big Drip" is also one of his best and proudest moments as he garnered one of the highest streams for his work, clocking in 63 million. The visual takes you along New York as you hang with the squad for the day, posting up and dancing the day away. His work is regarded as some of the best in the Brooklyn Drill scene.  He has since branched out and is now working with fellow Brooklyn artists Young MA, set to be releasing new content in early May, according to JLShotThat. 
Be sure to tap in with JLShotThat Via Social Media Instagram: @JLShotThat and Twitter: @JLShotThat, as well as Facebook JLShotThat, as he has hinted at upcoming releases, dropping very soon. "We just shot two videos for Young Ma that should be dropping around May 5th. Fivio and I have a bunch of videos in the works and the stash, so be on the lookout!" 
Check out JLShotThat's YouTube page for any new content. Be sure to see his latest work on CHRISSY STAYHIGH's visual for the track, "BIG PUPPY."
As far as what message he hopes fans take away from this interview, he responded, "I hope they understand the power of friendship and keeping relationships solid! And shoot for the stars! You can be at the lowest point in life, as long as you never give up, everything will work out.
Keep grinding, nothing comes over night."