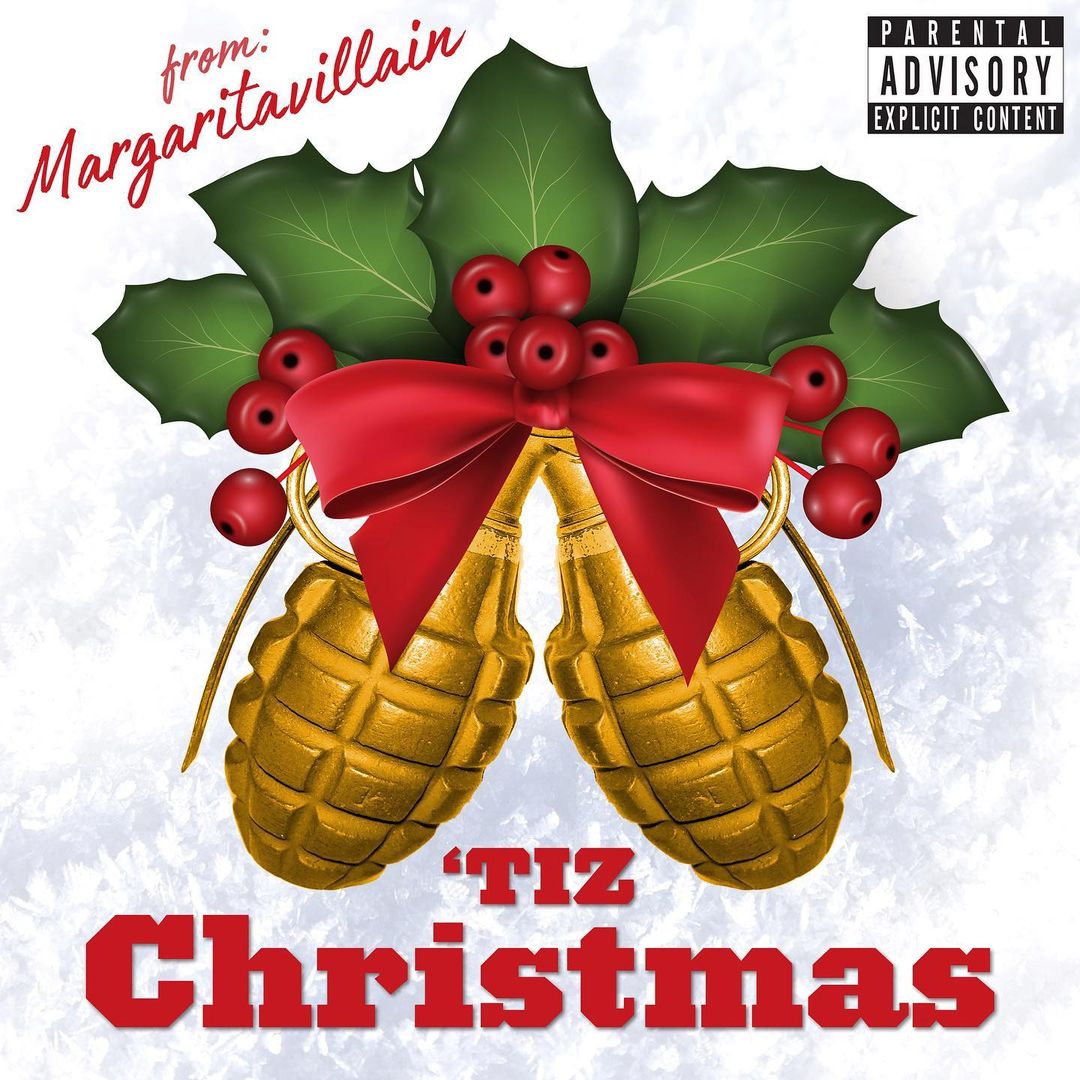 Margaritavillain has comically censored out the one and only curse word from his outlandish 2020 debut 'Tiz Christmas' to make this version of the holiday rap "family friendly". The new album art goes along with the concept of censorship.  A dark comedic Christmascarol with a bizarre combination of genres, including rap, gospel, holiday, humour, war, political and the rap subgenre horrorcore, 'Tiz Christmas' comes from the ever unique voice that is Margaritavillain.
This Christmas song is so good it had to be released twice… just one year after it's original release. Clevely subtle wordplay delivers a dark wit that we don't often associate with the most 'wonderful' time of the year. Undeniably catchy, 'Tiz Christmas' is now safe for radio play and family events with this new censored version of the track.
Packed with fascinating metaphors and slick double entendres, Margaritavillain's lyrics are composed with complex multi-syllable rhyme schemes, impressively often rhyming entire sentences, to paint a vivid picture of his darkly comedic view of the Christmas holiday while commenting on religion, war, politics and hypocrisy throughout. While as usual all the lyrics were written by Margaritavillain, he recruited the wonderfully talented singer, and frequent collaborator, The Syrin to perform the beautiful but slyly twisted chorus that evolves, or devolves, throughout the song.
This record is an invitation for listeners to embrace the warmth of the holiday season, Syrin lets her honeyed vocals take the spotlight on this record. Her silky tone and masterful control gives her the ability to paint the track with a mesmerizing melody, the smoothe jazz track – characterized by heavenly keys and a rich bass line – sets the perfect mood for a snowy night by the fireplace.
A highly skilled rapper, Margaritavillain has the ability to rap rapidly and create complex rhyme schemes, often rhyming entire sentences. Without warning, Margaritavillain burst on the scene December 21st, 2020, dropping his first single, the original version of the funny and twisted holiday satire 'Tiz Christmas'. This was followed up by the critically acclaimed 'So Sick' (feat. Cleva Thoughts and The Syrin), another lyrically impressive and controversial song inspired by Donald Trump's baseless claims of election fraud, the siege on the US Capitol, and Trump's handling of Covid-19 that has led to over 750 million deaths in the United States.
Connect with Margaritavillain on social media for updates on new music, videos, and more; @MargaritaVILIN