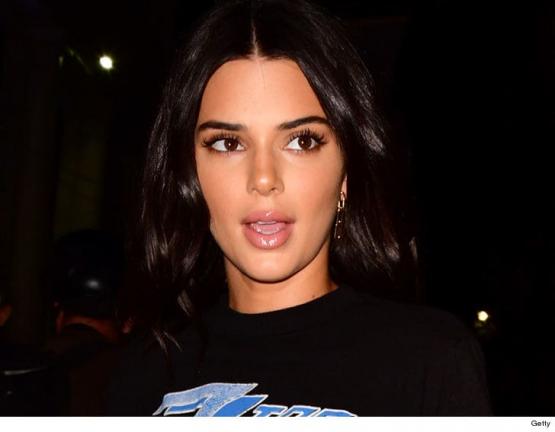 See what people are saying about Kendall Jenners nude photos that leaked online Tuesday.
Kendall Jenner is no stranger to nudity. The world renown model has tastefully been a part of several nude photo shoots that free the nipple and expose her body, most recently doing so for Love Magazine last month. Well on Tuesday, another couple photos leaked online prematurely of Kendall running naked on a beach & riding a horse, which of course has sent twitter into a frenzy over.
The photos are taken from photographer Russell James upcoming book "Angels," which Kendall striped bare for. It's reported that the book, which isn't out yet, will feature a lot more photos of naked Kendall, including her climbing a tree, lounging in a pool and riding a horse bareback, the latter of which leaked online Tuesday. The pictures are done tastefully and from a credible photographer too. James' "Angels" collection was celebrated last week in NYC at a party co-hosted by Cindy Crawford and Candice Swanepoel, so don't expect to see any mirror selfies
Unfortunately, RapUpco is unable to share these photos with you, but if you simply search on Twitter or Instagram you can easily find them.
Of course, people are having a field day the pictures, mostly confused as for why she's riding a horse naked with no saddle, but we went ahead and compiled some of the best reactions from Twitter for y'all to check out. Have a good laugh at them (below).
https://twitter.com/kingori__/status/1039715030068019200
Why did i wake up to naked kendall jenner all over my tl pic.twitter.com/gTHPOD6tAx

— 🍊 (@sunfIwercanyon) September 12, 2018
https://twitter.com/antifacap/status/1039679262020628480
Listen. I don't care what Kendall Jenner is doing. Do not put your bare lady garden on a horse and ride around. You will get crotch mumps. pic.twitter.com/N8vgtsZqVX

— Jenny Lawson (@TheBloggess) September 12, 2018
Everybody's talking about the picture of Kendall Jenner naked on horseback.

Listen, I needed the money.

— The Hoarse Whisperer (@TheRealHoarse) September 12, 2018
Personally, I don't care if Kendall Jenner is naked. She's naked in the least Kardashian/Jenner way possible.

Also, it's quite interesting how people are discussing/shaming her natural body. Moral of the story? Whether you have enhancements or are natural, folks will talk ish. pic.twitter.com/BlNjlJEuRY

— Britni Danielle (@BritniDWrites) September 12, 2018
https://twitter.com/trashygaytweets/status/1039697849708044290
Okay imma just pretend I didn't wake up to Kendall Jenner putting her bare pussy on a horse.

— EM IS SEEING HARRY X2 🍉 (@hesxfalling) September 12, 2018
https://twitter.com/six7six7/status/1039714841961803776
So I like women and all but seeing #kendalljenner naked is a HUGE no for me. Some things should be kept private. pic.twitter.com/C9AhNd0OzA

— K (@K91810445) September 12, 2018
That poor horse. What did it do to deserve such cruelty? #KendallJenner pic.twitter.com/0yS35fR8QD

— Marla Redd (@marla_redd) September 12, 2018
https://twitter.com/BlackUnityyy/status/1039697359440109570
https://twitter.com/princessxniyah_/status/1039702395289317378
https://twitter.com/just4kicks87/status/1039717373375172610
But let that be a black woman running on the beach butt naked it will be called ghetto and classless. We seen how they did Serena and that Cat suit smh #kendalljenner

— Kelsey (@AdoreMy_Essence) September 12, 2018
https://twitter.com/Brett_Coffman_/status/1039705358598656001
Me opening my Twitter and seeing naked Kendall Jenner riding on a horse pic.twitter.com/vy7j49VtOk

— sharon (@louisweeture) September 12, 2018
[Via]