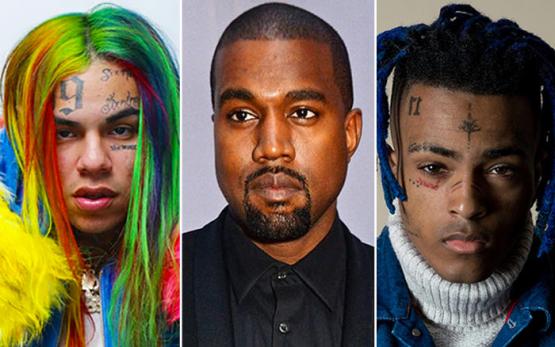 Kanye West Reveals Xxxtentacion 6ix9ine Features On Yandhi
Kanye West is set to release his new album Yandhi this weekend.
Ahead of tomorrow's release, Yandhi himself stopped by The FADER to play some unfinished songs off the project. 6ix9ine and the late XXXTentacion are among the guests, and Ty Dolla $ign is featured on multiple tracks. Kanye also said he was sending a song to Rihanna to add her vocals to the hook.
On one of the songs he previewed, Ye reportedly says, "I'm giving up my slave name" multiple times. According to The FADER, Kanye said he would have "run, fought, or got killed" if he were a slave. He also incorrectly stated that there were only 800 slaves in the 1800s, when the number is closer to 3.9 million.
11am meetings, amirite @thefader @kanyewest pic.twitter.com/3gtkxzt4I6

— Andy Cohn (@andycohn) September 27, 2018
He showed up to the publication's office wearing a Colin Kaepernick sweatshirt and red Make America Great Again hat, which he said he "redesigned." "I changed the brim, I mean I changed the shape right here and I put positive energy into the hat," said Ye.
Yandhi will be available Saturday night. Kanye will also perform on the season premiere of "SNL" with host Adam Driver, although he said he'd rather have embattled comedian Louis C.K. host.
He says he was attempting to have the performance filmed on an iPhone, but was "receiving some push back."
I see YZY as an arm of Apple I'm at SNL rehearsal and we're "trying" to have the performance shot on an IPhone Were receiving some push back.

— ye (@kanyewest) September 27, 2018
Yandhi arrives less than four months after the release of ye, which became Kanye's eighth No. 1 on the Billboard 200.
YANDHI 9 29 18

YANDHI IS RELEASING THIS SATURDAY pic.twitter.com/ysqMrtc1RP

— ye (@kanyewest) September 27, 2018