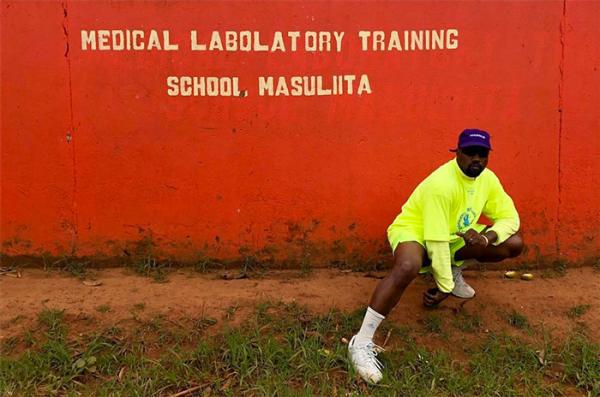 Kanye West is giving back.
During his visit to Africa this week, the rapper and his wife Kim Kardashian West paid a heartwarming visit to the Masulita Children's Home in Wakiso, the oldest orphanage in Uganda.
They flew from Chobe, Uganda to the charity event in Masulita on a helicopter that belongs to the President of Uganda, Yoweri Museveni.
https://youtu.be/1XD9qQhztV4
Wearing a fluorescent "Saving Lives Changing Lives" shirt, Kanye rapped for the kids, who sang and danced along. But they were especially excited when he brought out several bags filled with brand new white Yeezy Boost 350 v2s to hand out to the over 100 kids in attendance.
Kanye previously gifted President Trump with a pair of Yeezys, as well as the President of Uganda. "I thank Kanye for the gift of white sneakers," tweeted President Museveni. "Enjoy your time in Uganda. It is the true Pearl of Africa."
As they were leaving the orphanage, Kim—who was joined by daughter North—chatted with reporters about their experience in Africa. "We're so happy to be here in Uganda," she said. "It's really amazing. We can't wait to come back."
https://youtu.be/WcUReOhaZpg
While in Africa, Kanye has been recording his upcoming album Yandhi, which has been delayed until Nov. 23. Over the weekend, he took to Periscope to livestream some of the new music.
https://youtu.be/XDvBGAGNLyk