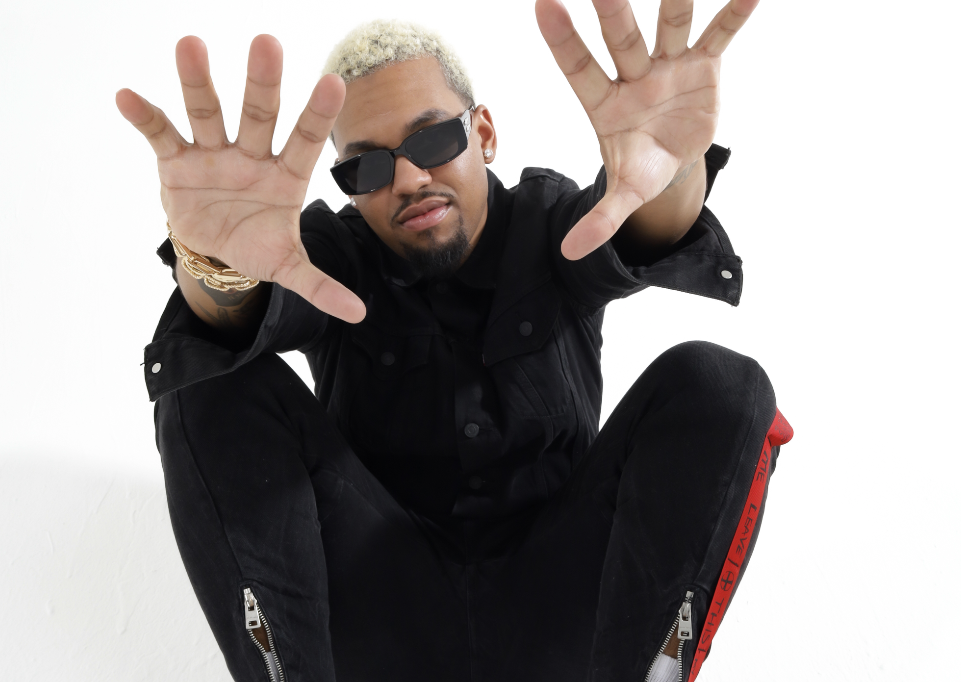 We sat down and spoke with LA rapper AQ about his new EP titled 'Hollywood Hurts' where he explained how living in Hollywood has humbled him in his quest as an artist and even in life itself. Songs like "Obsessed" and "Hollywood Hurts" kick off the EP with some perfect melody and beats, and some fire lyrics. Partying in Hollywood these days for AQ is the lifestyle he can finally say he's apart of. Even if it hurts.
It's just the start for AQ whose latest EP is making waves, through the industry, and it's going to be hard to ignore his stardom in this world. His next goal is to get signed and he wants to work with bigger artists, rightfully so he is in the right place. And he's in it for the long run.
Read the full interview below to learn more about AQ and the inspiration behind 'Hollywood Hurts.'
Tell me about the inspiration behind the EP 'Hollywood Hurts' in your own words?
"Hollywood Hurts can mean a multitude of things but specifically for myself it came down to partying in Hollywood. For years, I've gotten turned away at the door, promoters not knowing who I was, and it's just a lack of respect sometimes that would hurt. But as I've gotten older & gained more status things are much different at the clubs in Hollywood for me. I can walk right up to the front and get inside any club, whether it's a light or packed out night. I've seen the pain & hurt being turned down, outside of a venue, can do to someone's pride/ego. You'll be quickly humbled by Hollywood, the city is not for the faint of heart. I could go on & on but we can leave at that for now. "
How did you come up with the name of this EP?
"The name actually came from one of my best friends, Kendrick. He has a clothing brand called "Trinx" & on one of his trucker hats it said "Hollywood Hurts". So as I was in the recording process, looking for a title that I identified with, the "Hollywood Hurts" literally just came to me. I've been partying in Hollywood heavily since we've been back open & the title just spoke to the stage of life I'm at for the moment."
Is there a song on there that speaks to you most?
"'Obsessed' is my favorite song on the project. The beat, hook, my flow, the lyrics of what I'm saying, shit, everything just came out magical on that one. As soon as I heard the beat a flow instantly came to me, those are the songs I feel come out the best for me. Also, the lyrics speak to certain situations I'm dealing with when it comes to a woman. Definitely "Obsessed!"
What message do you hope people take away from this project?
"I want people to hear the sincerity & passion in the music. "Hollywood Hurts" is really a metaphor I used to motivate myself. I look at Hollywood as a measure of where my status is at in life, so for me being turned away or not having the certain access I would like at places is motivating. It's about achieving dreams, reaching the highest level of success you could possibly think of. I'm a happy person but we all go through certain things that shape us to the person we are today & will continue to grow into. I want people to dance, smile, cry, think about that one ex that changed things for you, that one time you partied in Hollywood and u had a blast, the time you & your best friend had an amazing night together. I want people to enjoy the project & I hope they do."
Are there any specific events that inspired these tracks?
"One night specifically comes to mind when I think about Hollywood. It was Grammy weekend on a Sunday at Night in Gale (a Hollywood nightclub). I was out with Future the day he won a Grammy for his song with Jay rock & Kendrick Lamar. I remember looking at the crowd react to him and vividly told myself "I want that". It was inspiring & at that moment I knew where I wanted to take my life. Nothing happens overnight but I am definitely grinding towards that level of success."
How does being from LA play a role in the kind of music you make?
"LA plays a major role in the way I make music. The LA dance culture is huge for me, I grew up partying, going to house parties, teen clubs and we would really dance at the events. So the beats I choose definitely have a certain groove to them that I want the listener to be able to dance. The way I talk, the slang I use in my songs, the places I reference in the music. When I think of LA as a whole, I'd say I am the city, the city is me. I love Los Angeles, it made me who I am."
What would you say is your main goal before the end of the year?
"I want to be in talks with some record labels about signing. I look at myself as a huge artist/talent so I want the same treatment or help, I should say, that a drake, future, Chris brown, meek mill, would get. I want to be on that stage so I want that proper backing and support behind me."
What are some of your long-term goals?
"My long term goals for music: One, I want to put out a debut album and go on a headliner tour. And with life I just want to be able to support my family, retire my mother from working. Be someone people can look at as an inspiration. If I can achieve these things so can you ! I'm big on reaching back to help others, I think everyone can use some help, especially when the person is serious, passionate & dedicated about a dream.
I recently started a clothing brand called "Wishful Thinking" so I want to establish that. I have some dope people with Great ideas, I think we can influence culture and shape the world into how we see it. So many goals lol but those are the surface level things I definitely want to get done in the long run."
Dream collab?
"Dream collab would definitely be a Song or project with Drake & Future. Like imagine a hit song that would last forever with those two, a song that will never die. Or imagine having a body of work that stands the test of time & lives forever. Like that collab would be so dope to me. I believe I can make that happen!"
If you could live anywhere in the world, where would you go?
"I don't think I would want to live anywhere other than LA for a long period of time. Maybe a couple years here & there in another place. But I honestly believe there is no place like home. I want my kids to grow up here. I love my city.
"I love Miami, Cabo(Mexico), Toronto, London, New York. I think I could stay on those places for a couple years or just have property there to visit a couple times out the year. Those are my favorites for sure."