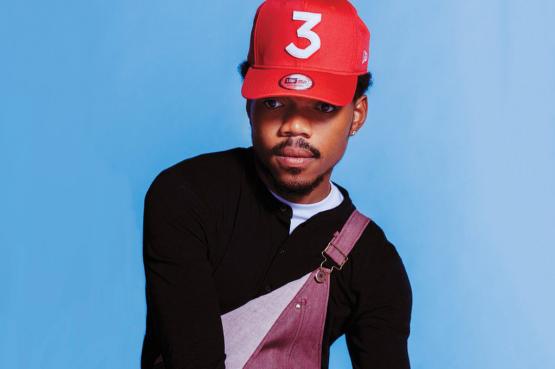 Joe threw a shot and Chance didn't hesitate to set the record straight.
Chance the Rapper and Joe Budden have been making headlines over the last few weeks for throwing shots at each other. Clearly, they aren't friends—but where did the beef start?
For those who don't watch Complex's "Everyday Struggle," cohosted by Nadeska Alexis, Joe Budden, and DJ Akademiks, it began there after Joe went on one of his usual rants, this time about Chance's new song "#FirstWorldProblems" with Daniel Caesar.
"What the fuck is Chance doing?" Joe asked, laughing. "What is this style of music? Is this like polk music? What the f*ck are these two n*ggas doing? And I love Daniel Caesar. No, Chance gotta stop. I see what Chance is doing. Enough. Enough of the Apollo sh*t, where you go out there and you sing about Jesus and we can't boo you, 'cause you singing about Jesus." Joe went on to say "It's too positive." Watch the moment below:
After hearing what Joe had to say, Chance threw a couple shots back during an interview with his childhood friend Robyn Neal. He said in an unexpected moment, "So, like, I did a song and then I was getting hit up all over the internet because somebody didn't like it—this talk show host, Joe Budden. I don't get upset about stuff like that because, it's like, that's just what music is.
You should be allowed to…you don't always have to have songs that everybody likes. You don't have to always make music that's going to be the contemporary best or better than what's around or fit in to what's around. You can just make music and if you are confident enough, you'll probably get to perform it on Late Night."
More specifically to Joe, he added with a calm smile, "I don't know, there's this idea that things have to move the culture forward and you have to do things for the culture, but it's like n*gga I am the culture. Whatever I choose, whatever decisions I make, they're made. I f*ck with Joe Budden. I know that he has to do his thing 'cause he has a talk show now, and like, he used to be an artist and at that time he could do whatever he wanted to. But now, he's gotta go to his job on Fridays and clock in, clock out and it's important for him to say things that are gonna be insight conversation. N*ggas gotta do what they gotta do."
See that interview below:
Of course, Joe responded via his "talk show," saying he's going to expose Chance. "You are not independent. Stop saying it," he barked back, threatening to show the world receipts.
And now, in a recent performance, Chance rapped "I might fire Joe Budden."
While their issues don't seem too serious, it doesn't seem like these two will be cool anytime soon. But we shall see.