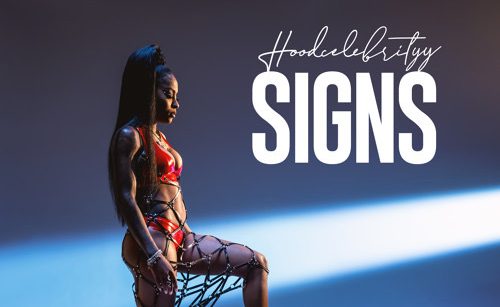 Jamaican born Bronx native, Hoodcelebrityy releases the new visual, "Signs". It is a refreshing and honest single from the sample, "The Sign" by Ace of Base. In this record she opens up about knowing when to leave a relationship after seeing the signs that it is simply time to move on. Produced by Constantin Ionita, Dee Sonaram and Robert Gergely, this one is definitely an instant hit! In the opening clip, as she looks out the window and the male lead walks up behind her she begins to state some of the signs that are red flags.
"Signs"
The record is the perfect fit for almost any setting. With a rhythm that all but compels dancing and good vibes. Still, the message from Hoodcelebrityy is in the tragic, but important choice of paying close attention to the signs or red flags of a relationship that may not work. This can be applied metaphorically to things as well as people. The theme of letting go is central in this vibey new single. Though that is often a tough subject, the sweet velvety melodies by Hoodcelebrity and the soothing beat combine for a feel-good experience. Hoodcelebrityy's hit single, "Walking Trophy" was her breakout moment, but she later became known for hits such as, "Bum Pon It" and more. She has collaborated with artists like French Montana, Fabolous, Lil Kim, Trey Songz, and Tory Lanez.
Hoodcelebrityy Is  A Hitmaker
As Hoodcelebrityy's fan base continues to grow, so does her impact and influence on the culture. Recently her single, "So Pretty" is still going viral on TikTok, empowering women to always feel beautiful and confident in their skin. It is organically averaging over 1000+ videos per day with over 216,000+ videos created to date. It has also spiked on all DSP as a result. Having performed on massive shows such as Hot97 Summer Jam Concert, and recently wrapping up a 10-city tour with Rotimi, it's safe to say Hoodcelebrityy is an international celebrity. She is destined to be one of New York's most dominant Dancehall artists.
Connect With Hoodcelebrityy On Social Media: