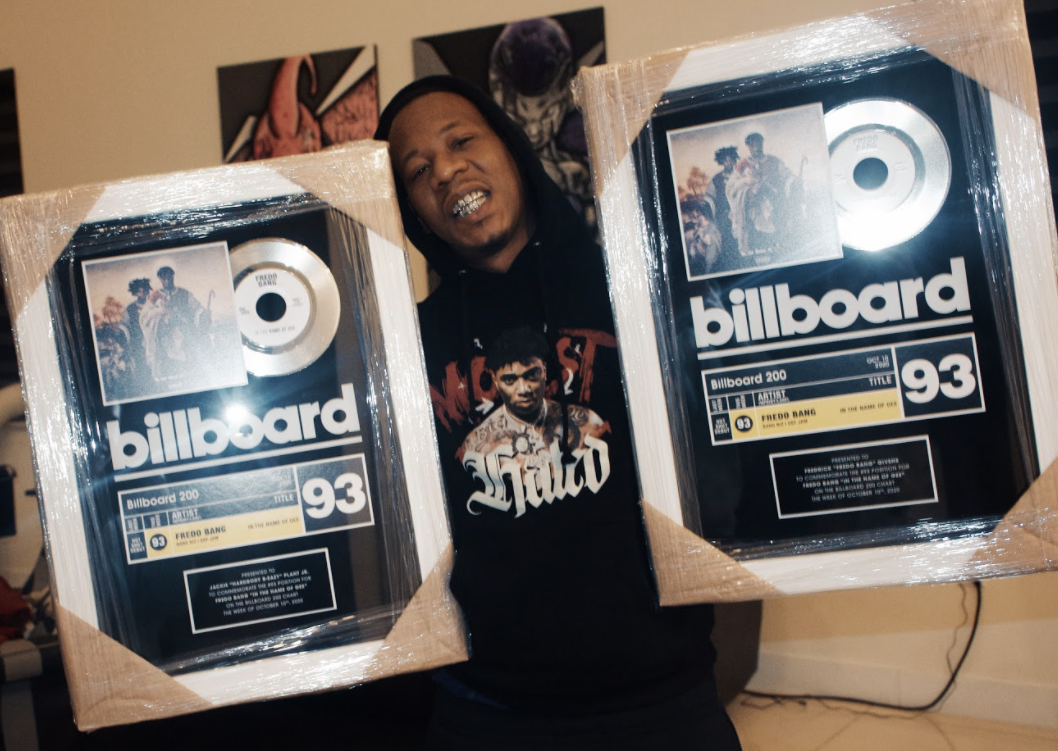 Hardbody B-Eazy has been putting in major work these last few years! He's not only a beat-maker, but a super-producer who forged a journey into music production a few years ago, and hasn't looked back since. Now, Hardbody B-Eazy has created a legacy of his own not only as a highly sought-after record producer, but also as Fredo Bang's in-house producer/engineer who is responsible for much of Fredo's growth.
In 2018, Hardbody B-Eazy became Bang's in-house producer, and he's behind the success of songs like "Top" ft. Lil Durk, "Gangsta Talk" ft. NLE Choppa, "Big Steppa" ft. Sada Baby, "No Protection" ft. Kevin Gates, and more. "Gangsta Talk" and "Trust Issues" are two of his best-known Fredo Bang collaborations.
"The project I'm most proud of is Still Most Hated by Fredo Bang," Hardbody B-Eazy said in a recent interview. "I feel like it showcases true growth from me and that's what drives me, getting better. I'm serious about this shit and I'm in my bag right now. I put my all into that tape, with collaborations with DJ Chose. But Fredo really has grown as an artist, I think in ten years people will still be talking about what we did with that project."
The Plaquemine, Louisiana native also said that he has some more heat on the way. He will be dropping his own mixtape this year called Key Player. And it doesn't stop there — in addition to upcoming placements with CJ, Coi Leray, and Moneybagg Yo — he's working on another highly-anticipated tape with Fredo Bang called Murda Made Me. He's been teasing the upcoming collaboration on social media.
"There's plenty of hits to look forward to from me and the team this year," Hardbody B-Eazy said. "Also, be on the lookout for tracks dropping this year from Hardbody Nipp, Hardbody Tron, & Carly HQ!"
As far as his background and how he got into production, Hardbody B-Eazy explained that it was his father who introduced him to music.
"My father played the drums, which introduced me to music," he said. "But he was too heavily involved in the streets so he never really had the opportunity to reach his full potential in the music industry, but that only inspired me who not to be like. All of my friends and family are also heavily involved in the music industry, it's in our blood."
However, ties to the streets ran as deep in the producer's family as music. Hardbody B-Eazy said that he received the 'B' in his name from his former street life by selling drugs and becoming a gang member.
"I was still young and learning, and while those experiences helped make me who I am, I'm no longer gang-affiliated," he explained. "Now I am all about being a positive influence on the next generation and helping our people find their path in life."
Hardbody's ability to balance developing artists like Fredo Bang, putting on shows for his fans, and maintaining a stable career, is a skill few in the industry possess. He also has a desire to form genuine connections with others. His popularity with Fredo has allowed him to collaborate with some of rap's most promising newcomers, such as CJ and Coi Leray, as well as industry heavyweights like JayDaYoungan and Moneybagg Yo.
Be on the lookout for what Hardbody B-Eazy has coming out next and follow him on Instagram @hardbody_beazy.