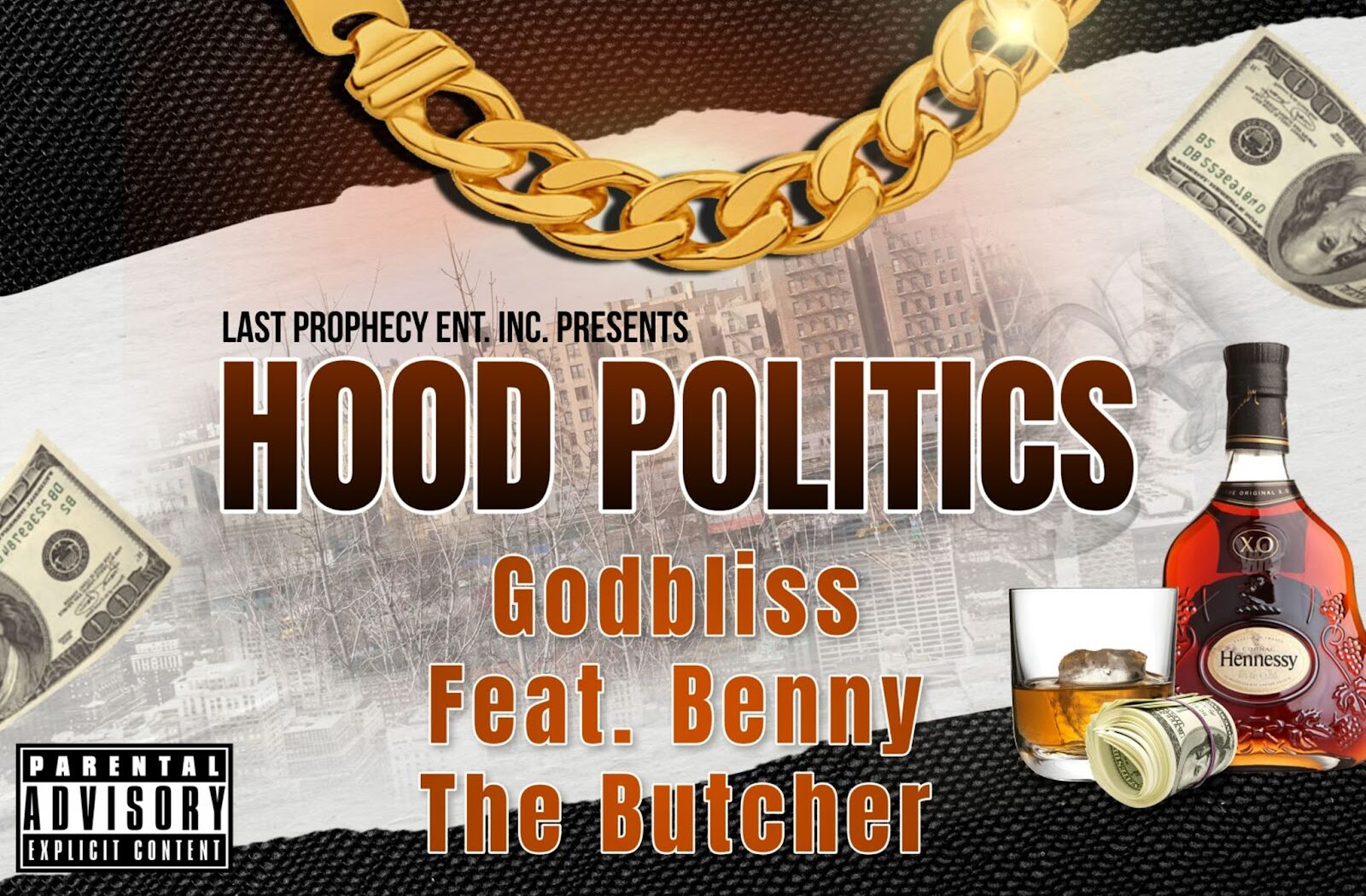 Emerging emcee GodBliss has once again proven his lyrical finesse with his most recent release, "Hood Politics". The trendy track delves into the intricate dynamics of street politics and offers a societal critique that is both witty and impactful. Joined by hip-hop heavy-hitter Benny the Butcher, GodBliss delivers a lyrical masterpiece that showcases the multifaceted nature of street politics while putting their passions on full display.
GodBliss is a true master of wordplay and lyrical depth, two qualities that are evident in every line of "Hood Politics." The release of his raved return serves as an intense reflection of the parasitic and complex nature of street politics, a mirror of how governments engage in political affairs. Both GodBliss and Benny expertly use their lyrical skillset to offer cutting commentary on the dangers of street politics. From the onset, it's clear that both emcees have a deep understanding of the interconnected issues that plague society.
GodBliss Brings Benny the Butcher Back Out
Benny the Butcher's verse is a standout moment on the track. His smooth delivery and clever wordplay complement GodBliss' vision, adding another layer of complexity and finesse to the single. He effortlessly intertwines wit with depth, showcasing his undeniable lyrical prowess. It's easy to see why Benny is regarded as one of the best wordsmiths in the game currently. In fact, GodBliss proves to be equally impressive, injecting the track with his lethal yet humor-laden bars. He adds a distinct flavor with his ingenious analogies, emphasizing the realities of street politics and its effects on society. GodBliss' contributions to the track further support the societal critique that both artists were aiming to highlight with this hot new hit. Their latest offering is a powerful message about the impact of street politics on society. Leaving listeners immersed in its depths long after the music fades.
Nonetheless, "Hood Politics" is a testament to GodBliss and Benny the Butcher's skilled artistry. The track masterfully blends societal critique with clever wordplay and lyrical depth that is a reflection of the realities of street politics. It reinforces the argument that hip-hop has always been capable of being a force for societal critique and consciousness-raising. Fans of hip-hop, music, and entertainment are sure to love this lyrical masterpiece, and it has proved to be another exceptional offering from GodBliss that cements his position as an artist to watch out for in the coming years. Don't believe it? Press play here on the sizzling street single here at 24Hip-Hop! Lastly, let us know your thoughts in the comments!
Connect With Godbliss On Social Media:
Instagram | Audiomack | Apple Music | Spotify | SoundCloud | YouTube