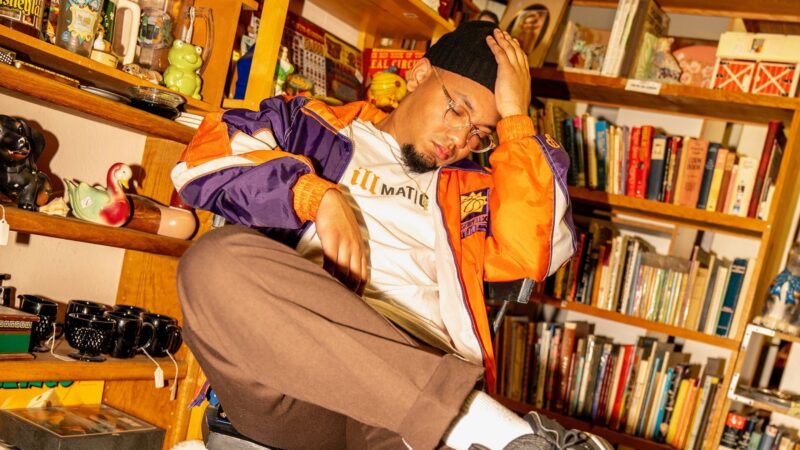 Residing currently in Phoenix, AZ — ColFax. The past few years he has been building himself and as the rising artist you know of. I want it to be known that it's fine to be vulnerable as well as confident, I want to give people substance while giving them a look into the real life issues that I deal with» reveled the Arizona based independent artist. Just his music alone brings you reflections of everything right and wrong with American Society — the good and the bad, the light and darkness, and how that coexists in the universe around us.
Read the Q+A in full below and get to know him more!
+ What inspired your artist name and where did you get the name from?
My name is derived from the street I grew up on which is "ColFax" ave that runs all the way through Denver, Colorado. It's the longest commercial street running through the US. I grew up on and around Colfax avenue. It's known for having a number of things going on in its history. In the 30's it was a very influential place for people that had status; Wealth, Political ties, any type of influence on the city, a place for artists etc. In the 60's & 70's things changed and a lot of people started to move away from and it started to become a haven for prostitution, junkies, dealers, homicide, crimes, etc. Like everything there's a good and positive and there's an east and west side of ColFax. There's a lot of positives and negatives in its history. A lot of immigrants migrated over to Colfax as time went on. It was a safe haven because of how affordable it was for folks to move and even start a business because the surrounding area came down and living became easier for the "Minority" of people moving to and from there. My name, art and myself represent the duality of both sides of the multiple fences. Wealthy, Middle Class and the lower class. 
+ Where are you from and where did you grow up? 
 I was born and raised in Denver, Colorado and moved to Phoenix, AZ when I was fourteen back in 2009.              
+ What made you want to move to Phoenix? 
I moved because my mother lost her job initially and our living situation was getting difficult. It didn't help that I was getting into trouble on the streets. Stealing, selling drugs. I was running with a group of people out there and it wasn't the best place for me. It just comes with the environment and I wasn't making the best choices while we were going through our struggles. I wasn't even making music yet at the time, so you can get an idea of where I was at. My grandparents were already living in AZ so she decided it was better we start fresh in a new state and push forward and start over. 
+ How would you describe your sound/style? 
I'm versatile and I can rap over any type of instrumental. I hold a high measuring stick for myself and my ability when it comes to music. Overall I have an affinity for east coast boom bap, 90s type beats with a modern twist. 
+ Do you also write, produce, and/or engineer your own music?
I write all of my music and have co-produced on some individual records with other artists in the city as well as outside the city. 
+ Is there any other special talents, besides music? 
I'm a filmmaker. I've shot and directed a lot of my recent videos. I design my own cover art and have been dabbling with creating logos for myself. I do act and had a chance to take part in a film called, "The System". In correlation with that I have written out screenplays as well as giving direction on storyboards. 
+ When did you get serious about your own music? 
I started making music when I was 15. I didn't take it seriously until I was 19. When I initially arrived in Phoenix, I met one of my close friends Marquel and that was around 15 years old. He also made music and we kind of just clicked from that point. We used to give each other homework assignments to make different types of music. We always pushed ourselves and would go from making a song without cursing, writing strictly hooks, songs structured with a chorus, etc. His father was Iroc Daniels who worked with a number of people in the industry from DJ Quik, 2 Chainz, Corey Gunz, etc. Being around Marquel and Iroc growing up, it really put things into perspective for me that being an artist wasn't too far fetched. Not because of his status, but being able to see someone else do it and make a career out of it. It wasn't necessarily "impossible". 
I genuinely love creating content. I started to get a response on my music via SoundCloud and I had released my first project, "Mile High State of Mind" which got a lot more traction than I expected. At that point I was already in a relationship with music as I was creating content but after that I fell in love and I'm still working now to pursue my passion. 
+ At what age did you start to record? Also why music? 
I was 15 when I first recorded and I was terrible. I loved the art form and the way I get to express myself through it. I fell in love with creating something so personal and putting that out for the world to hear and people genuinely loving it. It's a great feeling when people tell you they feel and understand "your" pain because they've gone through it themselves. I've also always had a love for music growing up. It helped me get through a lot in my life as well as coping with some of my personal issues. Music became my "way out", of staying out of the trouble I was getting into initially. It allowed me to channel my stress, anxiety, anger, insecurities, etc.
+ Who/what inspires your sound/music?
Jay Z , Biggie, Nas, Curren$y, Andre 3000, Kendrick Lamar, J Cole. My family and loved ones also inspire me and that's why I am still here on this road. 
+  Who is your motivation and why?
I want to be able to take care of the mom and grandparents. We have been through a lot and I feel I owe it to them for dealing with me and some of my choices in life. I want to show them that anything is possible and want them to be proud of what I do.
+ Who are your top 3 artists you look up to? 
J. Cole, Benny the butcher, Freddie Gibbs
+ What are your goals when it comes to your music career?
I want to be recognized as one of the greats. I believe in my story telling abilities but overall I want to win a Grammy, do a world tour and be able to make this my full time career.
+ What impact are you looking to make with your music? Who do you want to impact?
To show the world it's fine to be vulnerable as well as confident with yourself and you should never be ashamed to be yourself.
+ Is there any life changing events that has impacted your career?
One of the first life changing moments for me to start taking music seriously was when I was 19. Both of my closest friends were arrested for various crimes and they were a lot more talented than myself at music. I really looked up to them and seeing them waste their talent put things into perspective for me. It gave me more of a reason to keep working towards music because they will never have the opportunity to do anything like that ever again. Another reason was when I was 22, my ex girlfriend was murdered and the person didn't end up getting convicted for the crime. Life is short, unpredictable and she was in my life during my stages of my initial music career as well as some of my influence. Where I'm at now and right before her passing she was one of my supporters and was excited for me to be putting music out initially even though it ultimately ended our relationship. Being able to express my emotions, views, thoughts, opinion. Artistically speaking, it wasn't something I wanted to take for granted. I wanted to make it for her sake and for her to be proud. Another motivating factor was when I went out to Philly and met with some contacts that are involved in the industry. They had worked with Cardi B, Kyle, Ty $, Lil Uzi, etc. They helped me understand the importance of branding as an artist and really game planning and getting my foundation set up. Not only on that but the overall business aspect of it all and formatting the blueprint for myself as an artist. 
+ In your opinion, what makes you stand out from other/current artists out there?
My relatability and my blunt perspective on Society. The black and white, the grey lines, playing the devils advocate, etc.
+ What are you most known for? 
My lyricism punchlines metaphors storytelling and honesty.
+ Have you performed and/or participated in any talent shows and/or television shows?
Ghostface Killa & Sheek Louch 2012, Yo Gotti 2012, Elzhi 2013, Freddie Gibbs 2018 SoulyHad 2019. I've also opened up a few other shows in AZ. 
[CYPHER 2]
[SOULYHAD]
+ How many albums/EP's have you released?
Mile High State of Mind (06/19/2016)

Dying Just to Make a Living (06/20/2019

303 & Heartbreak (02/13/2020)
+ What are you currently working on?
 My next EP is called "I Like Rapping I Don't Like Talking" coming soon!
Check out my music using this link!
+ What would you like to do after music?
 I want to have multiple businesses, multiple income streams at that. My own production company, real estate, vintage clothing website and to just continue traveling the world to its fullest potential.
+ What else other amazing things have you done?
I've opened up for Freddie Gibbs and SoulyHad, I've even sold out a few shows without a headliner. I was in a movie called, "The System". I was posted on DJ Dramas vlog site, HipHopDX, This is 50, Kazi Mag. I've also was voted as an artist of the month for "Mymyhiphop" music that was in partner with DJ Whoo Kidd for independent artist. I was mentioned and featured in 2020 of August and 2019 of October.
 + What message do you want to leave the audience with when reading the article?
I would want people to know I'm someone that stands for what I believe in, resilient, love or hate me. I'm always going to be myself. Understand I'm the same person as you. I feel emotions, highs, lows, insecurities and confidence through it all. I'm always myself and myself only, what you see is what you get.
Follow him on his socials down below!