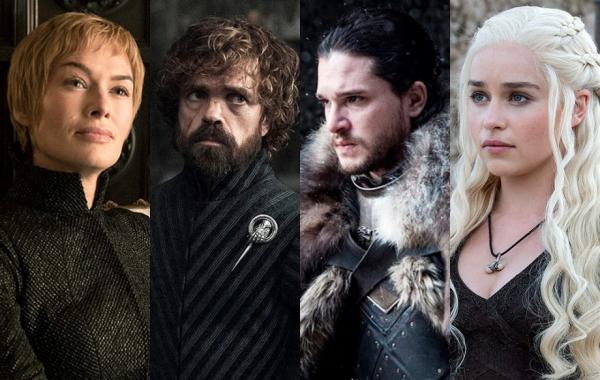 Game of Thrones Season 8 will not premiere until early 2019. Here is what you need to know before then.
All men must die. This gruesome turn of phrase is just as unavoidable for platinum haired television shows like our dear Game of Thrones as it is for members of House Stark and Lannister. But that is still hard to accept, especially if you've already swon fealty to HBO's biggest series of all time.
Nevertheless, there are good tidings as well out there in the snow since the final season of Game of Thrones might consist of only feature-length episodes. For context, the only Game of Thrones episode to run that long was the season 7 finale, which barely made the cut at 80 minutes flat. So there are good and bad tidings to anticipate as our watch continues.
Here's everything you need to know…
Game of Thrones Season 8 News
The first official image from Game of Thrones Season 8 has arrived in the form of a cover reveal by EW for the magazine's upcoming issue. The image showcases Westeros's favorite (unwitting) aunt/nephew power couple, Daenerys Targaryen and Jon Snow, who, at this point, seem to have made it to their snowy destination of Winterfell.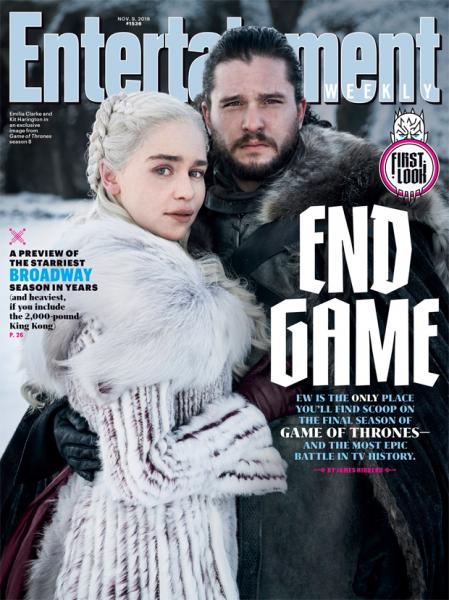 In a preview of the cover story, co-executive producer Bryan Cogman offers a bit of insight about the theme of the final season, explaining:
"It's about all of these disparate characters coming together to face a common enemy, dealing with their own past, and defining the person they want to be in the face of certain death." Adding, "It's an incredibly emotional haunting bittersweet final season and I think it honors very much what [author George R.R. Martin] set out to do — which is flipping this kind of story on its head."
Game of Thrones Season 8 Release Date
Game of Thrones Season 8 had appeared set to arrive in the first half of 2019, based on statements that had been made by HBO programming president Casey Bloys at the TCA Summer Press Tour. But now it appears that we might have to wait a little longer.
Game of Thrones visual effects supervisor Joe Bauer told The Huffington Post that "In two years we'll be eligible for the Season 8 work…which we're just beginning now." He adds that they'll be working on the season 8 VFX "until May of 2019" which means that we might have to wait until summer for the final season to arrive.
Game of Thrones Seaon 8 Trailer
There is no official Game of Thrones Season 8 trailer but HBO did offer a very brief sneak peek at some footage of the upcoming season.
https://youtu.be/ouA24T1Tz-Y
Game of Thrones Season 8 Spoilers
Of course the series filmed in Belfast, Ireland, which is its base of operations, albeit some scouts have been spotted at familiar castles in Ireland, as well as the Roman amphitheater in Spain that stands as the "Dragonpit" in the Game of Thrones season 7 finale.
Our friends at Watchers on the Wall caught that Game of Thrones is headed to Sweden and Norway for the first time ever. Apparently, HBO is now leaning toward the latter. So Benioff and Weiss presumably want to finally show snow falling on King's Landing and other locations, and are using Northern Europe, accordingly. This is good news for Starks, because winter is a time for wolves.
Similarly, new sets for Winterfell and King's Landing were built in Belfast. The former includes new battlements and walls to showcase the fortification of the Stark ancestral home of Winterfell… as well as a new moat being constructed. This may suggest that there willl be an epic battle before the walls of Winterfell between the living and the dead, which is none too surprising when one considers season 7 concluded with the White Walkers headed due south.
The fact that they're also building King's Landing neighborhood sets in Belfast is intriguing, however, since this has never been done considering the show often just uses real locations in Croatia for King's Landing… But if perhaps a battle (or riot?) is to break out in the capital, it might be better to have sets to, ahem, burn…
Game of Thrones Season 8 Cast
Presumably all fan favorites who survived the end of season 7 will be returning for the Game of Thrones' endgame in its final year. However, some interesting background players are also turning up.
Mark Gattis suggested to The Express that the plan is for his Iron Banker character, Tycho Nestoris, to return for two more episodes in season 8. For those who need a refresher, the Sherlock actor and co-creator plays the Braavosi banker who is backing Cersei Lannister in her current war. Likely given the events of the end of season 7, he will be checking in on his investment as things move into their final death throes.
Watch Game of Thrones on Amazon
Game of Thrones Season 8 Episodes
Episode one is being written by Dave Hill, who has been an assistant and story editor to Benioff and Weiss since season 2. Hill has previously penned three episodes of Game of Thrones, including season 7's fifth episode, "Eastwatch," as well as "Home" in 2016, and "Sons of the Harpy" in 2015.
Episode two will be written by Game of Thrones heavy-hitter Bryan Cogman, who has been a producer on the series since 2014 and has writing credits on it going back all the way to the first season in 2011 when he wrote "Cripples, Bastards, and Broken Things." Other notable episodes he penned are "Oathkeeper," "The Laws of Gods and Men," and the infamous "Unbowed, Unbent, Unbroken."
The final four episodes have all been written by David Benioff and D.B. Weiss. It's good to be the king.
Like the sight of a dragon flying above a battlefield, the directors list is a beautiful sight since Miguel Sapochnik has returned to the series. Aye, the helmer of what may still be the two most cinematic hours of Game of Thrones, season 6's final "The Battle of the Bastards" and "The Winds of Winter" hours, is returning to the helm of multiple episodes. Yet the most intriguing thing might be that the final episode will be directed by neither Sapochnik or other fan favorite series mainstays like Alan Taylor, David Nutter, or Neill Marshall. Nope… showrunners David Benioff and D.B. Weiss will be directing it themselves!
HBO has yet to reveal who will direct which episode beyond Benioff and Weiss helming the series finale–they have previously directed such episodes, such as the crackerjack season 4 premiere, "Two Swords"–but we know thanks to EW that the only other two directors slated for season 8 are Sapochnik and David Nutter. Nutter has himself directed six previous hours of Game of Thrones, including the now legendary "The Rains of Castamere" episode in season 3's penultimate hour. In other words, he visualized your tears by crafting the Red Wedding.
However, thanks to cinematographer Fabian Wagner's interview with Collider (he DP'd for Sapochnik's two aforementioned season 6 episodes) that the fan favorite director will be helming two episodes for season 8: episode three and episode five. While Sapnochnik's best episode, "The Winds of Winter," had no major battles, we suspect the fact that he is only doing two would suggest those will be the two episodes that will try to compete with "The Battle of the Bastards" for gritty medieval spectacle.
This also leaves Nutter as the helmer for episodes one, two, and four.
Game of Thrones Season 8 Story
We went into detail about what we expect from Game of Thrones Season 8. Here's an excerpt:
This struggle will undoubtedly be what most of the final six episodes deals with. However, I am already happy to report that it's now apparent this isn't the true end of the series. Jon Snow has called the Army of the Dead the only enemy that matters, and he is correct to fear zombies over mere humans. Yet George R.R. Martin's world has never been Middle-earth. Hence why it could never truly be about just the forces of good overcoming the forces of evil in an epic battle on the border of Mordor. While J.R.R. Tolkien included the "Scouring of the Shire" as one of his many epilogues in Lord of the Rings (which is perhaps the only thing of substance Peter Jackson cut from his movie adaptations), it is now obvious that Martin, and Benioff and Weiss, are making the post-war skirmishes and power vacuums a critical part of the main story.
One thing that has been confirmed is that the season will feature a massive battle scene. It spent 55 days of principal photography on a major battle, which filmed at the Moneyglass Base in Northern Ireland. For context that is longer than any major battle filmed for the premium cable epic. Not "Battle of the Bastards," nor "Blackwater," or "Watchers on the Wall" compare. So expect something truly epic, especially as we know Moneybase has long been where sets for Winterfell have been built.
Game of Thrones Season 8 Finale
While Game of Thrones season 7 proved to be the biggest year yet for HBO's flagship, at least in terms of ratings, it's fair to say that it was also one of the more frustrating entries. Plot outlines for the entire season leaked almost a full year early, and paparazzi images spoiled months in advance that Daenerys Targaryen and Jon Snow would meet on the cliffs of Dragonstone (never mind scripts getting hacked and episodes accidentally leaked days early during the actual season).
Thus it's not too surprising that HBO and showrunners David Benioff and D.B. Weiss are taking extra measures to keep the final season of Game of Thrones as spoiler-free as possible. This includes, according to Casey Bloys, HBO president of programming, shooting multiple endings to the epic saga.
Still, there are those reports that there are just a ton of deaths this year. Which shouldn't surprise anyone.
While speaking to Moravian College (via The Morning Call), Bloys said, "I know in Game of Thrones, the ending, they're going to shoot multiple versions so nobody really know what happens. You have to do that on a long show, because when you're shooting something, people know. So they're going to shoot multiple versions so that there's no definitive answer until the end."
With that said, Maisie Williams dismissed the idea of filming multiple endings given the series' sizeable budget while chatting on Jimmy Kimmel's talk show.
Williams makes a strong point. However, there are set photos out there that would make a lot more sense if they were done for the most rabid part of the fanbase to draw the wrong conclusions.
Right now, we know the production of Game of Thrones Season 8 has returned to Seville, Spain, which previously served as the backdrop for King's Landing in the seventh season. That is very much where the Dragonpit sequence from the season 7 finale was located, and gossip suggests the "Dragonpit" location in Itálica is being utilized again.
In this vein, there has been much debate about how the eighth season will end… and yet we know further unsubstantiated rumors persist that this is the final shooting location for Game of Thrones Season 8. Admittedly, that seems like an intriguing prospect for ending principal photography in Spain, as opposed to the show's decade-long base of operations in Belfast, Northern Ireland. Further we know Emilia Clarke will be back in Belfast and on the set in the near future to promote her Omaze contest. For the record she isn't in Seville… likely because she is also currently promoting Solo: A Star Wars Story. (Blue screen can work magic though for insert shots…)
Still, this cryptic tweet by Sansa Stark star Sophie Turner would seem to hint it is the last day of filming… at least for Ms. Turner.
https://twitter.com/SophieT/status/996472032664719360
While we normally prefer to only include things a little more concrete, we felt readers might like to know that Game of Thrones potentially has taken its final bow and followed Ned into the undiscovered country beyond.