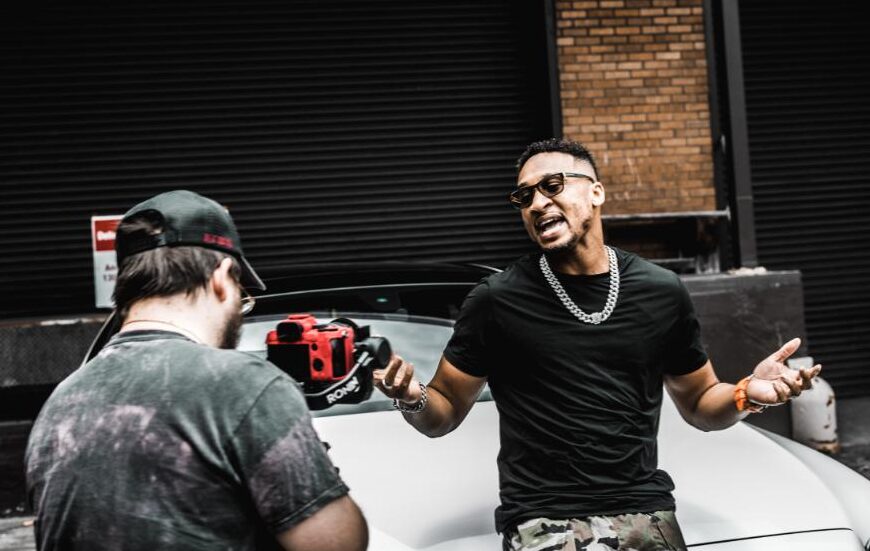 What first got you into Music?
Not Being able to express my self as a kid or even a young adult. Adults, Uncles, Aunts, Parents, etc. Usually just talk at a child & whatever they say…that's it! So we often get silenced as if we have no voice. So I use to write my emotions & how I felt out in notebooks. Then I noticed it came out in a form of poetry. So I begin writing poetry as a outlet, it just so happen to rhyme. I actually, always considered myself a Poet who wrote short stories until i came across a poet who put poetry over beats. Then, I notice we were actually more then poets, but Artists. Artists who use words to paint pictures vividly over instrumentals using Melodies as catchy hooks.
Who inspired you to make music?
There are alot of Artists I looked up to. Like my 1st favorite Rapper Eazy-E , who never held back when expressing how he felt towrds the system in a Disrespectful manner. I thought that sounded cool at the time. Unconsciously, most of us grow up with mommy issues, so when I heard Eazy-E disrespecting women who didn't respect themselves, I took a strong liking to that Art form of expression. The way LLCool J expressed his sexual desires & Love for Women was dope to me. I thought damn, he's the 1st i ever heard to confess Love openly to women & make it sound so cool. Slick Rick was the Master @ Story telling & Tupac was the reflection of what most teenagers felt back then. That angry, rageful, rebellious pain being transmitted into music was heart-felt & amazing. But it was Actually "Nas" who inspired me to Reveal my sorrow & struggle in the form of Rhyming.
How would You Describe The Music That You Typically Create?
Lyrically Authentic, Pen Game Deep, Poetically inclined, Emotionally Expressive & heart felt. See, My pain runs deep into my child hood & teenage years. Over the years , I Lyrically evolved as time changed, I adapted to whatever sound of HipHop that we were in at the time. I seen alot of Artists not adapt to the changing of time & get left behind. Simply cause they were stuck in there ways or just wasn't advanced enough or wise enough to adapt to change. And I said emotionally expressive because I simply was just expressing myself. It was my outlet. My safe haven. I fell in love with hiphop before I ever fell in love with a human. Hiphop wouldn't judge me & make me feel the way people did. Hiphop gave me a Voice, as well as heal me during times of Sorrow. She was there for me when I had no one. Now you see why I'm in love with Rap.
What is your Most Creative process?
I don't even think I have a creative process. I could be in mid conversation & a thought or a idea or emotion could just hit me out of nowhere & I'll begin mumbling to myself & pulling my phone out to jot words down. It be the oddest thing to happen in mid conversation with someone, Unexpectedly! Seriously, I know I look crazy to people when it occurs.
Who would you most like to collaborate with?
Underground, soulful R&B singers. The type who sing in church's. But Rap wise, I'll say welcome home & S/O to Albee AL, Tsu Surf, Huey V & Ant-Wave. But Industry Wise, it would definitely be Tory Lanez, Lil Durk, Rod-Wave, Vory & Roddy Rich.
If You could open up a show for any artist who would it be?
I would love to open a show up for J.Cole, Joyner Lucas, Tory Lanez, Kendrick Lamar & The R&B singer "H.E.R."
What is one message you would give to your fans?
To listen less to outside influencers & people who try to tell you how your journey in life is supposed to be & listen more to self. Not the "Too Much Pride" Egotistical self, But your soul guiding "part". Your intuition, your instincts. And to never give up. Under any circumstances, Dont ever give up on what's in your heart.
What's a major important factor that you learned from the music game?
That it's 10% music & 90% business. That its more then just recording a song. Like advertising, Marketing, forming a LLC, getting established as a business, Getting a EIN# , registering with the treasury department, networking & engaging with your followers. I also learned that the music game is straight Cut Throat & full of hatred & fake people just like the streets.
On your Project "Between My Lady & My Legacy", you have songs titled "The Real Me", "Just Like My Daddy", "Never Trust Again" & "Feeling Tortured", What inspired such?
"THE REAL ME" was me being honest with myself. When I was younger , I use to lie in my raps. Betraying a imagine that didn't define me. So I'm in a space now in life where I'm nolonger afraid to be vulnerable & expose my weaknesses. I did alot of things I was ashamed of. Like going in & out the system, battling alcoholism, being homeless twice, hurting friends, lying & etcetera. I healed from that, grew & matured. "NEVER TRUST AGAIN", came from betrayal which most of us all deal with inside our family or immediate circle. I thought of Nyru R.I.P. when I actually wrote that. "JUST LIKE MY DADDY" was a confession of the damage I did during my drinking dark days. So much has happened within these past 2-3 yrs from me going to prison, not being able to build & have a relationship with family, even losing my daughter. My soul was "FEELING TORTURED".
Who are some of the people who helped you get to the level of success that you are at today?
1st & foremost my companion, my wife. She stayed by my side through it all & supported me every step along this journey. Also, S/O to @TayKelley who provided a platform for Artists to be acknowledged & heard on his Live music reviews.  His Platform was different from those that just do reviews, charge you $25 – $40 then that's it. Tay Kelley actually provided marketing for the artist, Advertisement, Strategies, a celebrity cosign & more. My uncle Lorenzo & My Cousin Laquan were the ones who supported me behind the scenes & guided me to have more of a business structure with a LLC, Video contracts, copyrights & business Accounts. I didnt know any of that was important & they guided me. My Aunt Cindy provided emotional balance out of pure love, which is needed on this journey that I am on. But My GodMother Carella, That's my heart, I mentioned her & my wife throughout the entire Project. She the reason I never gave up on life . She wouldn't let me. She changed my mind frame from being a nqqa to being a Man. That's my little support system right there . They the ones I do it for.
So what's next for VinChi Shakur?
Filming my documentary right now. Forest Whitaker if your reading this right now, stop sending me to voicemail. Lol. Really though , im Tip toeing into modeling & acting roles. I'm learning to produce my own music right now & construct my merch & get my clothing line branded & up & running. It's a process & I'm just loving it. VinChi That
Follow on Instagram: https://instagram.com/vinchi_shakur
Follow on YouTube: https://youtube.com/channel/UCd3kmZd3LgDU1O8_JhRdsFw