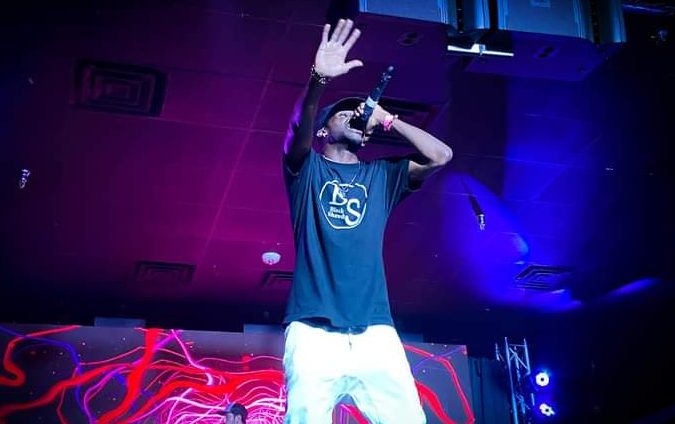 What is your name and what city do you rep?
Black Shawd, Atlanta to Phoenix, All day
It's funny when I'm asked that question, I think people get confused. Because how I'll be repping both so hard. I just let people know, Arizona born in Georgia raised. Moved to GA, after dropping out of high school, my senior year. Spent almost 16+ years in Atlanta. I say which is where I really learned my roots and got deep into music. From 2004-2020 where I moved back to Phoenix, during the pandemic due to family and life issues. But I even gotta rep my New Jersey family, that's where my Pops is from and are family roots run deep up north and in the South.
Tell us about your latest releases, what inspired you to create them?
My latest release, that I just released is called "Walk With Me". What inspired the song, was me finishing up my album, which is releasing very soon by the way. I Wanted to drop something powerful and thought moving. S/O to my producer who sends me beat packs every week. Terrell Berry aka Hitman G-45. But yea, when I heard that beat in the pack, instantly came up with the lyrics and started writing. I work overnight at my job, so I brought my mic and laptop to work to record it, when everyone laid down. The song was special to me because of where, I was going with it. Something I know my dad would be proud of me for. Who transition, September of 2019. That's why I released it on his birthday. It was my perfect introduction for those that never heard of BLACK SHAWD before.
What is unique about you and your music?
I say what's unique about my music, me being from the Phoenix and living in Atlanta for so long getting that culture and growing up as a man. Then all my east coast family roots defiantly a key factor. But mostly I'd say is the dedication, passion and emotions that I put into it. This has been all I ever wanted to do. I been doing music since as long as I can remember. I did my first big talent showcase when I was 12. It was 100's of people there, rocking with yea boi. Really set my destiny for me. Being on that stage, that high you get from invoking people's emotions, uplifting their spirits with just my music. I'm not here to be average, not one bit. I'm trying to leave this earth legendary and be up there up with greats.
What shaped your music?
Honestly everything, my experiences, ups and downs, good and bad. I put a lot of myself in my music. I don't just say things to say them. Even when I'm doing a story telling song. Like " Think I Had A Nightmare". It tells a story about the kid Jamal who gets shot by the police. Then come in right behind it telling the police side of the story. It's deep on all platforms as well. I 'm good at taking experiences and creating what I call, magic pieces lol. Without these things you go through in life, what is there to sing about. Unless you're going to sing nursery rhymes, or something. Using a rhyming dictionary just trying to do the basics.
When did you realize you were going to make music professionally?
I've always known I wanted to do music. Even when I was young. I was always so fascinated with music. I used to watch The Temptations Movie, The Michael Jackson and the Salina movie all the time as a young kid. Always admire their dedication and love just for the music and performing. David Ruffin is probably my favorite, it's like I just felt him. Like yoo I just want to sing lol. Honestly for me I'd say it was when I was really young, I had to be 10 or something. It was my 6th grade. I ended up doing this talent show with my homie girls that went to grade school with me at the time. We performed Destiny's Child – No No No pt2 the remix version with wyclef jean. Guess Who gets to play that lucky part me, yaa boii. So the girls, they already came up with this dope routine dance for it. They super sang that thang and danced to it. We practiced this thing to the T, too we were on point. So now the performance is going on, I'm nervous as hell. The girls up there rocking it. I'm sweating cuz other than just being a class clown. I never really performed on a stage like that. In front of the whole school. So now it's my part. When they do their dance part they signal for me to come out. I came out doing the puffy & mase dance coming out, I got this all white Karl Kane suit on, with the baby blue Shirt, idk remember the shoes. But I was looking spalttt yea dig. 1'SuperStar status. When I was young, tho I was living in the west, I was a huge Ma$e fan. So I come out, on the mic saying "come on, come on, come on" like he used to do. Everyone went wild. It really changed my life. That footage is out there somewhere. Sucks, we didn't have social media and phones back then.
What type of music do you listen to?
I DJ so I listen to everything, I mean everything to Cumba, Reggae, Hip Hop, Red Hot Chili Peppers is my favorite band of all time. Ok maybe not country, but I do like the Tequila Song, and Philip Philip, Metallica, it's just gotta be hot. Since I djing and like to get things jumping. It's important to give them different vibes.
What inspires you to write music?
I want to make a difference in the world. If I can write a song that can make somebody think about a situation differently, I did my job. If I can make a song that you can relate to and give you some kind of comfort. That will get you threw, then I did my job. If you are not out here trying to make a difference, you're part of the problem. I mean what I say, and I say what I mean. I never followed any trend, I am the trend. Me, I'm the brand, being myself. If you don't like it's ok, cuz I know plenty that love it. I just want to give that back to that person who feels what I feel. They can know, damn I'm not alone. Black Shawd been there too, we all got so much in common. But we stuck on the difference, and judged who is better. Everyone is great, just gotta find your greatness.
What do you do when you don't do music (creative or otherwise) and that you are passionate about?
When I'm not doing music, I'm being a father, probably the best job in the world. What would I do, if I didn't have my 3 rugrats? Blessed to have them in my life. I also got into script writing, and shooting films. I've been shooting music videos, just testing out my creativity. I'm not tooting my own horn but I believe I'm nice. I like the writing side of it probably the most. I'm also passionate about another job I work at "Trinity Care Services". I believe we have the most honest drug clinic you can come to. We are really making a difference. Folks come to us and get right. We give them all the tools; they need to succeed. It's a good feeling to be a part of something so amazing. I love what I do. Threw the ups and downs, I'm highly blessed.
Happiness to you is…
Happiness to me is seeing my kids happy. As long as they're good I'm honest. I mean yes of course I'd love to gain that financial freedom not having to work any 9 to 5. I love what I do at my job. Just to make a living doing what I love doing.
What do you wish you were told when you first started making music that you think would help artists just starting out?
Stop looking for your family and friends to support you. You have to go make fans, they are going to be the ones to support the music, buy you merchandise. Also save your money, stop buying stuff you don't need. It's 90% marketing and 10% product. That's how the rich do it. Stop trying to cut corners, you have to put in the work.
Tell us about your upcoming projects…
My next project, I'm excited about, will probably be the best work. I've yet to drop. the energy is so crazy, the features, that I got on there. Yea you guys are just gonna have to go find whoever is the champion, have them forfeit the title. The songs I'm dropping are like nothing you ever heard me, no honestly. The production is so crazy.
Where do we find you music / music projects?
My music is everywhere you stream music at just type in BLACK SHAWD. I don't care what you just type in my name. I promise you will be amazed. Of all the work I put in.
Any last words for the readers?'
I just want to say thank you guys for all the support. We can only keep going up from here. I promise y'all hard work does pay off. You just have to be willing to make those sacrifices and put in that work. Don't stop believing in me and yourself, nothing is impossible #lego.