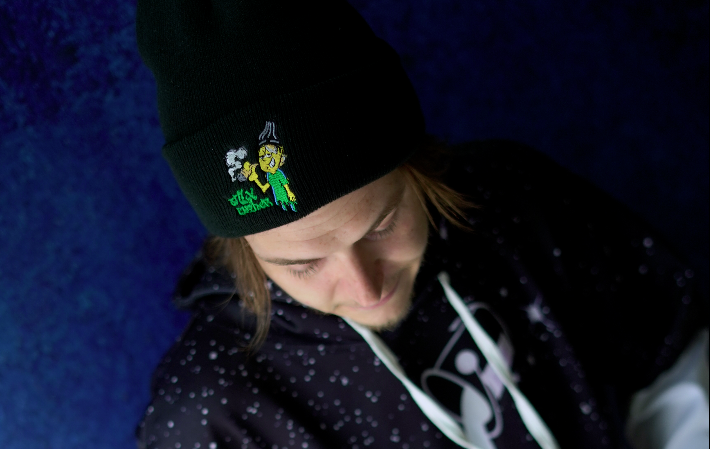 What is your name and what city do you rep?
ATX Cypher, Austin, TX but I was born in Minneapolis, MN. I say 512 by way of 612
Tell us about your latest releases, what inspired you to create them?
My latest release was Codeine Metaverse. Its a atx emcee collaboration mixtape. I have two visuals on it Proceed W/ Caution ft Thowdarosas and Nez Tha Villain. I just hopped in the rap game not to long ago and by way of networking this tape came together!
What is unique about you and your music?
I'm unique because I'm a white rapper but I don't have corny vines or over use of syllables and what not. I have a swagger to my music but also bring deep cut metaphors and shit like that that makes it an experience to listen to.. if ya listen that is..
What shaped your music?
My music was shaped from listen to hop hop growing up. Selling drugs, playing basketball with the homie. Hustling and rap type shit has always surrounded me. My step dad always listened to tupac so that's what sparked it. I really like lyrical shit. I'm into old Wayne, tupac, dom Kennedy, andre.. that type of shit.
When did you realize you were going to make music professionally?
I realized I had to start taking it seriously after so many people telling me I had a unique rap style. I was always freestyles just kicking it the homie but once they started taling it seriously it was only a matter of time.
What type of music do you listen to?
I listen to everything except modern pop country. I got to classic rock shows, hippy music festivals. From RJD2 to STS9 I'm all in!!
What inspires you to write music?
I like to see what's the most clever shit I can come up with. I honestly don't know what inspires me. Probably the idea of being the best lyricist ever keeps me going.
What do you do when you don't do music (creative or otherwise) and that you are passionate about?
I throw a music festival called Barz, Jarz, & Cigarz Music Festival in Webberville, TX on June 11. This has taken up most of my free time. Check it out! WWW.BARZJARZNCIGARZFEST.COM
Happiness to you is…
Happiness to me would be traveling the world with family and friends playing my music for people who generally enjoy my craft and want to lend me some of thier time.
What do you wish you were told when you first started making music that you think would help artists just starting out?
No one is going to help you. When they say they want to help you.. they really don't. Only if it benefits them. They want you to do good until you do better then them, then they will sneak hate from the sideline. All music promotion is a scam. Also no one cares you make music… like at all.. Don't do it for ANY other reason then having fun. Because that's all you will get from it.
Tell us about your upcoming projects…
I have Whole Sack ft Nez Tha Villain I'm doing a visual with Big&little . We pulling up in a brand new BMW i8. Then I also have a visual I'm doing with nVision Films for Put You On a track ft Kyng Kenobe. I also have a EPK I'm putting together with Najar Media. Finally I have a podcast that's dropping next week called You Gone Pass That!? Podcast with Big T from The Higher Class.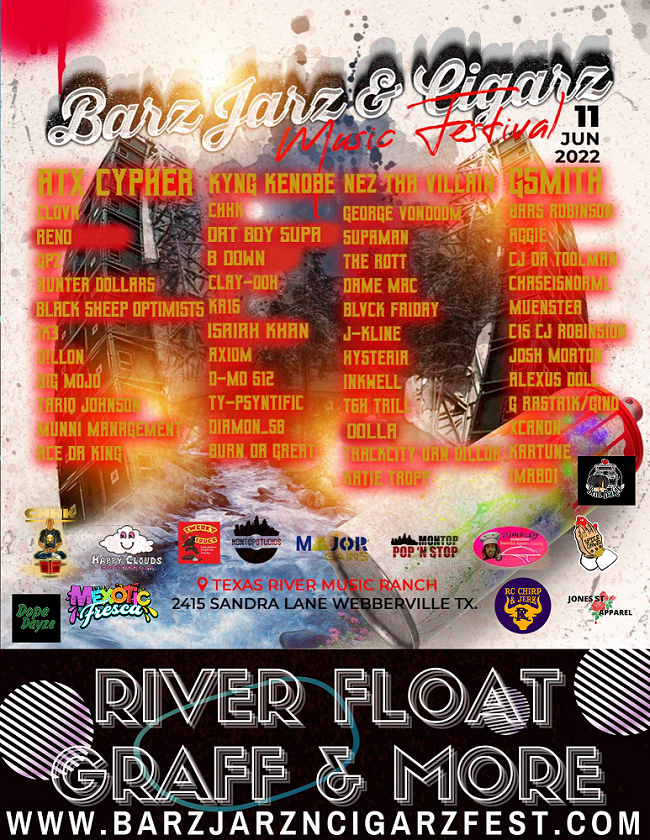 Where do we find you music / music projects?
Atxcypher.com – music and merch
Spotify
Festival
https://www.barzjarzncigarzfest.com/
Podcast
https://www.facebook.com/YouGonPassThatPodcast/
Any last words for the readers?
Please pull up to Barz Fest June 11 if your anywhere near Austin, TX. It's going ti be the dopest festival in the whole country in a few years!! There's nothing like it!!