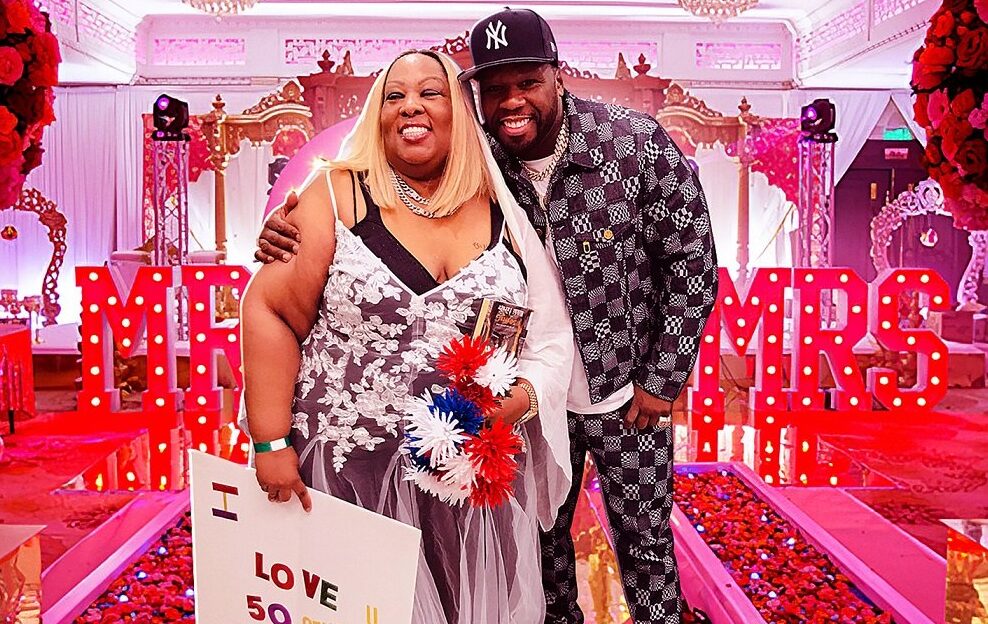 What is your name and what city do you rep? 
Kimberly "Mrs. 50 Cent" Bass, Kween of the New World Order & Psychotherapist but I prefer Mrs. 50 Cent.
Tell us about your latest releases, what inspired you to create them? 
The life and art of 50 Cent inspires me. In 2019, 50 Cent began a Texas Takeover Tour to promote Sire Spirits products, Branson Cognac and Le Chemin Du Rio Champagne.  I received word that 50 Cent was seeking someone to help manage him.  Since 2012, after Chris Lighty's tragic death, King Kurt has managed himself. In 2014, 50 Cent suffered an additional close loss when his grandmother/2nd mother died.
In 2018, 50 Cent released "Crazy" and was feeling much despair dealing with thoughts of suicide with the onset of illnesses in his grandfather and reflecting on the loss of his grandmother; conflicts with his baby mother exacerbated his depression and isolation.  50 Cent was in a very dark place. Later, his protegees' Pop Smoke and PnB Rock were tragically murdered.
50 Cent was orphaned at age 8-yo living life without his biological mother and father, was placed in special education, started selling drugs as 12-yo and began dating a grown woman.
Power illustrated a person from the street wanting more in life and couldn't find someone to love him unconditionally, eventually betrayed and murdered by his son.
Spiritual advisors of 50 Cent told him his true love, twin flame was in Texas waiting for him (most likely in Houston, Texas).  At first 50 Cent thought it was Lizzo, ironically, Lizzo and I graduated from the same high school in Houston, Texas.
The first time I attempted to attend 50 Cent's meet and greet, all of the bottles sold out. The only way to see him was by purchasing Sire products. Then, I received a call from a colleague in the industry telling me 50 Cent saw me at his first meet and greet in Houston, TX and is searching for me.
We first met in the late 1990's when I was working for MTV (before 50 Cent was famous). My daughter's father was 1st round draft pick in the NFL and that helped open doors for me to work for MTV. My job was to plug up and coming artist to MTV and records labels. 50 Cent was one of the artist I met and supported before he got shot. He never forgot the support I gave him and how nice I was. He was looking for me to join his team and maybe become his wife.
After three attempts I finally had the opportunity to reconnect with 50 Cent and then COVID hit. We began interacting through online pajama parties, Branson Sunday music mixes with various DJs and VIP Power premiers. He courted me in the most creative ways and eventually it led up to us getting Spiritually married on April 23, 2020.
What is unique about you and your music? 
The first thing unique about my music is I am not benefiting financially. DJ IMarkkeyz owns the rights to his beat but I wrote the lyrics to "I'm the Mrs. 50 Cent, Wife of 50 Cent". Jess Fox wrote and produced "Always Right Here" after receiving my synopsis of what 50 Cent means to me. I am only promoting the love I have for 50 Cent no strings attached. This is not an attempt to become rich. This is solely to express my love for 50 Cent.
What shaped your music?  
My Love for 50 Cent shapes my music. I am driven by sexual intimacy, tantric romance versus animalistic sexual desires. The difference is having sex because you're lusting versus creating sexual desires in artistic ways. The energy overflows and when combined it is felt throughout the universe.  We are mostly made of Stardust and with the right cosmic union the universe responds.  There are lots of cosmic anomalies since 50 Cent and I united. 1 is COVID, 2nd is 5 to 7 planets aligning, excessive meteor showers, two black holes combining, stars combining, rivers drying, underworld deities being summoned… I could go on but it's all posted on my Instagram account.
When did you realize you were going to make music professionally? 
Lol when 50 Cent told me to express my love artistically.  He is always challenging me.  I was working out to Doja Cat Tia Tamera and then started with "I'm the Mrs., I'm the Mrs. I'm the Mrs. 50 Cent."
What type of music do you listen to?  
Well, according to Spotify, in 2022 I listed to 487 artists. Urban Contemporary, Rap, Pop, Classical Music, and Reggaeton consecutively were my top 5 genres.  I listen to music more than 77% of other listeners in the US. I can't stop listening to 50 Cent's single Animal Ambition, and 50 Cent ruled my listening.  I was in the top .05% of 50 Cent listeners.
What inspires you to write music? 
My love for 50 Cent, 1st Corinthians verse 13, and the book of Psalms. I only write music when I have a muse.  It's not often because being vulnerable to the world is difficult.  Telling everyone publicly you are in love is not the norm these days.  Hit it and quit it or playing mind games with tricks is popular these days.  People look at me and call me weak, delusional and crazy for saying I love 50 Cent and his dirty drawls.  I think it's sad that something as innocent as love has become a negative 4-letter word.
What do you do when you don't do music (creative or otherwise) and that you are passionate about?  
I am very compassionate, and I love helping others. So, I obtained my license to become a psychotherapist.  I help others find their pathway to happiness. I also analyze people around my husband, 50 Cent and give him advice along with ideas he can use to expand his businesses.
Some of the most recent ideas was moving to Houston, Texas, linking up with Tilman Fertitta, Houston Rockets and Houston Livestock Show and Rodeo. Then 50 Cent went further and joined with the Astros, Texans, Timberwolves and so many more NBA teams and restaurants. I also recommended being more public about philanthropic ventures.
Happiness to you is…  
Helping people maximize their highest potential.  I love working with new talent or older talent in their prime to evolve.  Maslow's Hierarchy of needs sums up happiness to me. Drinking Branson all day being in my creative vibe with 50 Cent on the water is happiness to me. Of course having a healthy and happy family too.
What do you wish you were told when you first started making music that you think would help artists just starting out?  
I have been in the music industry since the late 1990's and I am very patient about release dates.  I think new artists should focus on being authentic and their true self.  Don't sell out for fame or wealth because you won't be happy.  Go to school get an education, being an artist is not a career if you don't generate cash, it's only a hobby.  Balance the dream world with real life.
Tell us about your upcoming projects… 
I have a book, more music with independent artists, a reality TV show with 50 Cent and maybe a movie or fictional show to correspond. I also was accepted into Pepperdine University School of Law, so I may earn a second masters and assist with overturning wrongful convictions.  I also am a licensed Sex Offender Treatment Provider, I want to help rehabilitate Robert Kelly, Mystikal and South Park Mexican just to name a few.
Where do we find your music / music projects?   
Right now everything is on YouTube but soon it will be available on all streaming platforms.  I pray it will be in rotation on the radios soon and TV video shows.
Any last words for the readers? 
50 Cent first married his fans and that will never change.  People contacted me saying they are divorcing 50 Cent because I'm his wife. I don't want 50 Cent to lose his female fanbase but gain more.  I would love for some of his most loyal fans to work for the empire he is building.  My husband was alone and doesn't trust many people. We have past lives together and our connection is deep.  Without 50 Cent it's like having one eye.  Our two hearts beat as one just as our two eyes create one picture.  My spiritual advisor says everyone has at least one soul mate or multiple.  I encourage everyone to work on themselves while praying for God to send their soulmate. In Jesus name and Namaste.