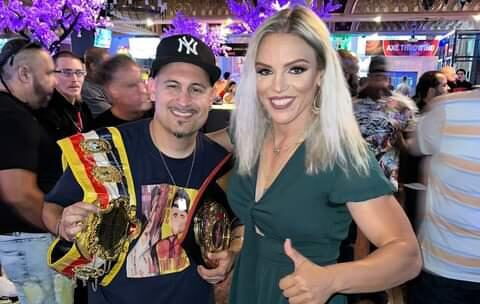 What is your name and what city do you rep?
Hey everyone, you can call me Brady, but the actual artist name is Braydbunch. It's spelt all one word! The Y comes before the D!
When it comes to where I am from, I rep both NYC and Long Island. I split my time in both locations, but Brooklyn is the place that is closest to my heart. Nowadays, ever since I reentered the world of Combat Sports, many  of my biggest fans have been referring to me as the Non-binary Ninja. Personally I love the nickname. Some other fans know me by the nicknames Sh8dy Br8dy and Lady Brady too. Lately, I have been debating rebranding simply as Brayd though, because that's what most people seem to call me.
Tell us about your upcoming releases, what inspired you to create them?
I haven't released new music in forever. I actually am sleeping on about 100 different tracks. Last March, while trying to finish up two Albums, I received a phone call to fight for the Celebrity Boxing Organization. The CEO Damon Feldman told me he became an instant fan when he saw my DJ Drewski interview talking about fighting and calling out Lil Nas X. Damon said he knew I was the perfect person to bring into his organization when he saw my energy. It was at that moment, I stopped working on my albums and focused mainly on my training. However, while training I discovered that I was inspired to release some kick ass head banging fight music. As a result, my passion for music and martial arts collided when I hopped back in the booth. I'm getting ready to release some of my best music yet. I am going to release my new single, "What I would Do" in the upcoming weeks and it's a song that revolves around my upcoming fight in October.
Celebrity Boxing, the first of it's kind, truly wants to create a lane for transgender fighters like myself. In fact, we were supposed to have the first Transgender Title fight this last June which was going to lead to the creation of a new Trans Division. Sadly, the fight never happened for quite a few different reasons. One of the biggest reasons was my new manager hurt my business deals. Multiple people told me my manager scared them off. Next, multiple fighters backed out after agreeing to fight me including the one opponent I was most excited for. It was a big disappointment for myself, Damon Feldman, the LGBTQIA+ community  and my fans. Some of the people who backed out of discussion were Cara Crocker, Gia Gunn, and Sidney Starr but all backed out in the end. However, not all is lost. I just signed a new fight contract and will actually be making history when I fight a cisgender man on October 15th at the Showboat Atlantic City. It is being billed as the first ever Non-binary Boxing Match and certainly will help change the fight world forever. Ever since the fight was announced, I have had a few transgender athletes challenge me to a fight. I hope we can make it happen after I am done embarrassing Mike Mazza in October.
What is unique about you and your music?
There is no other Non Binary Trans Artist like myself out there. I am touring the country, beating up cisgender men while getting paid for it and gaining new fans everywhere I go. I truly am a fighter and have survived things most would have never been able to overcome. My struggles as a trans person have made me stronger than most. I have bullet proof thick skin and I have a unique story to tell. I was even in Federal Court fighting for Trans rights and NYC just settled with me this March. Most rappers are the defendants in Federal Court. I was the actual plaintiff. The  biggest city in the world tried to ruin me, smear my name  and messed with my paychecks. I still came out on top. You see, when you hit rock bottom, the only place to go is up. I've hit rock bottom a few times already. I always bounce back better than ever.  In many ways,  I am scared of no one or anything. The only real fear I have is dying alone one day. I also happen to be neurodiverse too. I really am one of a kind. What other rapper out there looks like or sounds like me? What other rapper could steal both your girl or your man? What other rapper is out there producing the high quality EDM I am releasing as a side hustle? I've even got multi platinum artists hopping on tracks I've produced as.  I am truly the definition of a multi genre artist. Most importantly, anyone who has seen me perform live will tell you that no one out there can match my energy on stage. Don't believe me? Come to my next show. I'll make you a believer.
What shaped your music?
The real question should be what hasn't shaped my music? Pain, struggle, happiness, dreams, divorce, discrimination in the workplace, betrayal, homelessness, poverty, loss, fighting for survival….the list of things that helped shape my art just goes on and on. Basically, everything and anything I have been through in this life has helped shape my music. I guess I am glad life has not been easy for me. If that were the case, I'd have no real stories to tell. Lucky for me, I have stories for days. Most artists these days are busy regurgitating the same old boring stories. Hip Hop is getting pretty stale.
What type of music do you listen to?
All forms of rock, hip hop and alternative are my favorite genres. I like things that pump me up or bring about emotion. I basically listen to almost anything for inspiration. However, the Alternative and Hip Hop Scenes are where I feel most at home. I truly love making EDM too.
What do you do when you don't do music (creative or otherwise) and that you are passionate about?
For me, it's been martial arts and combat sports. I've always been an athlete. Years back, I was actually training out of a few different gyms including Former UFC Champion Matt Serra's MMA gym on Long Island. I absolutely loved it, but gave it all up because I knew that I was transitioning. I felt like America would never accept a transgender athlete like myself. It broke my heart to walk away and suddenly there was a hole in my heart. Sports always helped me get out some aggression and pent up emotion. Martial Arts helped me escape the pain in my life.
As my transition carried on, life got harder. The hole in my heart got bigger and I lost much joy from life. I am happy to say that music ended up being the only thing that could fill that hole in my heart. Just like sports was a form of therapy, music was able to do the same. Once I began making music, I knew there would be no looking back. Music for me is therapy. I need therapy to survive. It's a form of self care. If I don't get to a gym, get to perform on a stage, or get to a studio to make some music for quite some time, I start to lose my mind. As soon as I can get back to one of these happy places, everything instantly gets better. I feel fortunate to be able to practice both forms of self care these days. In many ways, music and martial arts have saved my life and keep me going when things get rough.
Happiness to you is…
The idea of happiness is always changing for me. It's something I have to chase. It stays briefly, feels great but then it'll leave and I gotta go chase it down again. For me, setting goals and accomplishing them is one thing that actually makes me happy. Once I knock out my opponent Mike Mazza, on October 15th in Atlantic City, I'll be happy for a little bit. Once I release a new song, I am going to be happy for a bit. However, I am a dreamer and for me the dreaming never stops. Happiness is short-lived. I am always setting new goals for myself and am always challenging myself to achieve them. If I stop dreaming and chasing my dreams, I certainly would not be happy anymore.
What do you wish you were told when you first started making music that you think would help artists just starting out?
If someone offers you something that sounds too good to be true, it's most likely too good to be true. Watch out for scammers, predatory industry folk and keep your lips tight. Many snakes in this music game. They will smile and call you a friend while plotting against you.
Most importantly, try your best to stay authentic. Be yourself. Don't try to pretend to be someone else. People will see right through it.
Tell us about your upcoming projects…
When it comes to fighting, I am in talks with organization about possibly having a kickboxing match against another transgender fighter like myself. The organization is New Line Cagefighting and just like Celebrity Boxing, they would like to create a lane for transgender athletes like myself. This would also be the first match of it's kind, with two transgender kickboxers square off in the ring. I personally feel that I am a much better Kickboxer than Boxer at the moment. My legs and knees are deadlier than my fists for sure. My upcoming opponent, Mike Mazza should be very happy he is not meeting me for a Kickboxing match this October.
I am also finishing up my three albums at the moment. One album is focused on EDM and features myself solely as the producer. The title of this Album will be "Lady Brady." Another album I am releasing shortly will be old hip hop tracks from the vault. Some of the tracks are fully finished, but many are unfinished demos. However, the album I am most excited for is my upcoming Rap Rock Album. This is the album full of fight music I mentioned earlier. Anyone who hears it loses their mind instantly.  The type of music that makes you want to lift heavy or break stuff! I can't wait to share it with the world. I know I am going to gain a lot of fans when it comes out for sure.
Lastly, I might be set to tour some Texas cities with DaBaby again this November. I am just waiting to hear back on the final details, but I am definitely excited for that. I can't wait to perform in Texas again. Texas hip hop heads are surely one of a kind! I also fell in love with the city of Austin when I performed for SXSW earlier this year. SXSW was life changing for me. I became more addicted to performing than ever before. I hope some of you could make it to one of the shows this November. Going to be performing my new stuff too!
Where do we find you music / music projects?
I have random projects scattered throughout the internet. I've been talking about bringing them down forever because I know the glow up is real. With my new stuff, I am thinking of releasing some albums as Exclusive Releases on Spotify or Apple Music. Many of my fans originally came from SoundCloud so maybe I can start releasing tracks on there like I used to years ago? I also have a few companies talking with me about releasing music as NFTs.
Any last words for the readers?
I really hope some people will come out to the Showboat Atlantic City this October 15th to watch me make history as the first Non Binary Transgender Boxer to take on a man in the ring. The world will never be the same after this fight. You can also watch Fake Drake aka Izzy Drake fight for his career that night.  After October,  I hope the world will keep an eye out for my kickboxing match later this year. I want the world to see that athletes like myself deserve the opportunity to compete in the sports we love. I also hope I can attract more competition from the transgender community without them backing out this time. I'd love to eventually take on transgender MMA pioneers Fallon Fox or Alanna McLaughlin in a match, whether it's boxing, kickboxing, or MMA.
Who knows, Maybe Lia Thomas would want to fight me, considering she has essentially been banned from swimming due to transphobic legislation. Caitlyn Jenner, the transphobic Trans Woman, has not accepted my challenge to a fight yet either. Some say she is afraid to step in the ring with me, because she would have to give up her undefeated record in Celebrity Boxing. I wish she would accept because she deserves a punch in the face for all the times she talk crap about Nonbinary people. She also claims Lia Thomas should be banned from swimming, but supports transgender females competing in golf, Caitlyn's own favorite pastime. What a HYPOCRITE she is. If not Grandma Jenner, I hope one of these girls will step up to take me on soon. Even if I lose to one of these athletes, I could hold my head high knowing I helped advance the sport. If athletes like myself can create enough attention competing as fighters, I hope more sporting organizations will follow Damon Feldman's lead and create divisions for transgender athletes like myself.