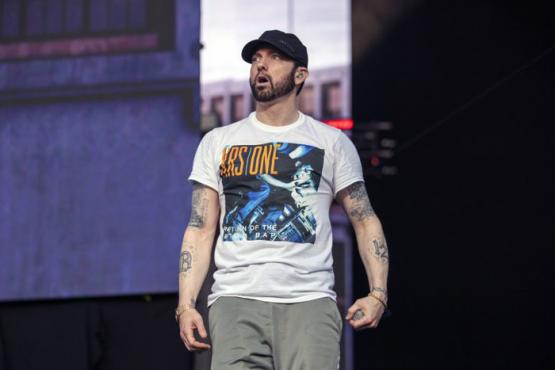 Eminem Trolls Music Critics With Kamikaze Ad
Eminem is firing back at his critics in a new print advertisement.
Following the surprise release of Kamikaze last month, the Detroit rapper and his labels Shady Records, Aftermath Entertainment, and Interscope, took out a full-page print ad in The Hollywood Reporter in response to the critics who panned his latest album.
https://twitter.com/THRMattBelloni/status/1042909336752676864
The ad, which features the album's artwork, is made to look like a "For Your Consideration" campaign aimed at voters, but instead reads "Not For Your Consideration!"
It highlights several negative reviews from media outlets. "The work of an aging artist trying, and failing, to remain relevant," reads The Hollywood Reporter, while Pitchfork writes, "Yet another empty, intermittently tone-deaf onslaught." Noisey calls Kamikaze a "stale misfire," and Rolling Stone awards the album 2.5 out of 5 stars.
Despite the critics' harsh words, the ad points out that Kamikaze debuted at No. 1 in 103 countries with 434,000 equivalent album units. It ends with a message from Slim Shady: "Thanks for the support, a**holes!"
During his interview with Sway, Eminem addressed critics of his previous album, 2017's Revival. "It's not like I can't take constructive criticism, but I feel like it went beyond constructive criticism," he said. "If it wasn't for Revival, I wouldn't have been able to make this album. Some people more than others went a little far with [the criticism]."