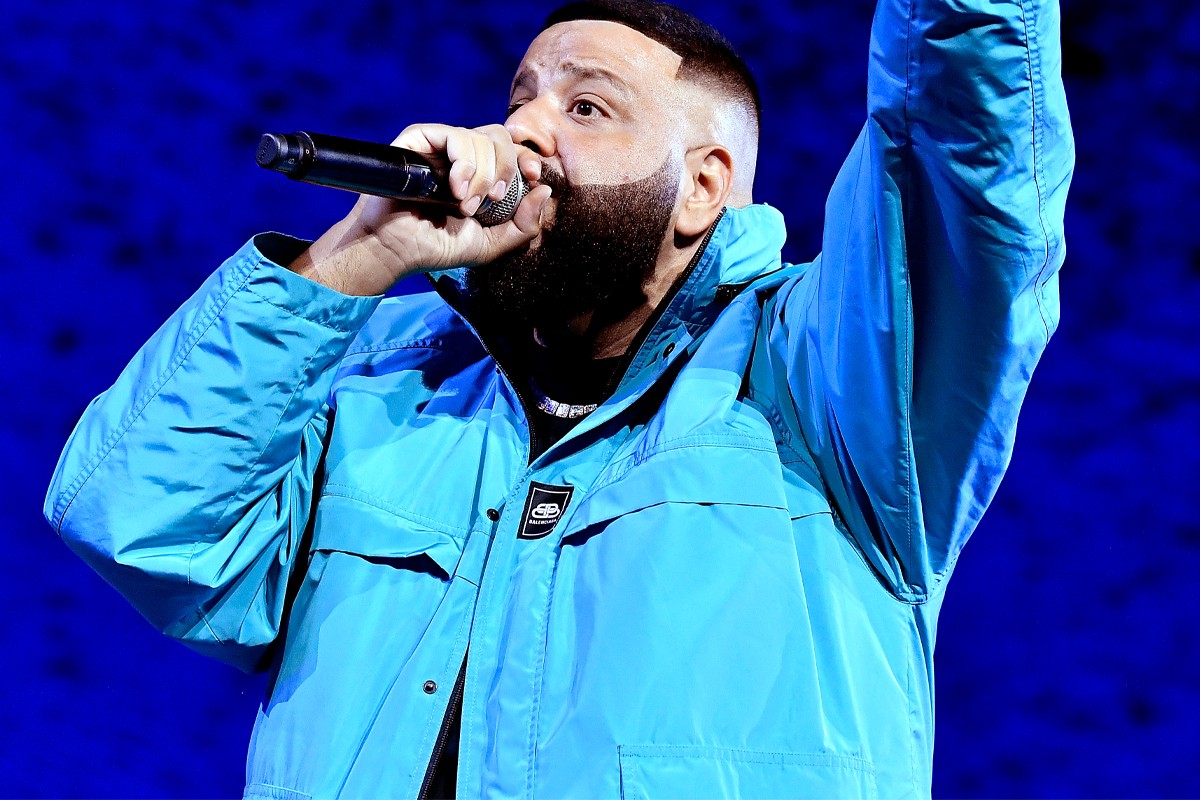 Apr 29, 2021, 03:00am EST — DJ Khaled is set to release his forthcoming album titled 'Khaled Khaled' on Friday, April 30th. The superstar Dj has shared the tracklist to the project alongside a trailer for the music video for track #9, 'Sorry Not Sorry' with Jay, Nas and James Fauntleroy.
This comes after Khaled made the surprise announcement this week that his 12th studio album will be arriving 30th and just as promised, he has gone a step closer by sharing the official tracklist.
The album will feature 13 songs including previously released collaborations with Drake 'Popstar' and 'Greece'. Other artists on the album include Lil Wayne, Jeremih, Lil Baby, Lil Durk, Post Malone, Megan Thee Stallion, DaBaby, Justin Bieber, Jay-Z, Nas, Roddy Ricch, Bryson Tiller, Harmonies By The Hive, H.E.R., Meek Mill, Buju Banton and many others. See the full tracklist below.
His storied history in putting together some of the most unexpected collaborations continues on Khaled Khaled with some of the most groundbreaking team-ups in a while.
The album follows his "Father Of Ashad" album which he released back in May with guest appearances from Jay Z, Meek Mill, 21 Savage, Cardi B, Nipsey Hussle, Lil Wayne, John Legend, SZA, Travis Scott, Post Malone, Chris Brown, Big Sean, Cee-Lo, Jeezy, Future, and more.
Khaled Khaled follows his 2019 Father of Asahd released through We The Best Music and Epic Records. The album debuted at No. 2 on the Billboard 200 chart and featured hit-makers Cardi B, Meek Mill, 21 Savage, and more. The album also featured "Higher," a collaboration between the late Nipsey Hussle and John Legend which scored the late rapper a posthumous Grammy and Khaled's first gold gramophone.
The forthcoming album is set to be released through We the Best Music, Epic Records, and Roc Nation. The project also held merit for being the first high profile release of new Nipsey Hussle, through the John Legend-assisted "Higher."
'Khaled Khaled' Tracklist:
Thankful Ft. Lil Wayne & Jeremih
Every Chance I Get Ft. Lil Baby & Lil Durk
We Going Crazy Ft. H.E.R. & Migos
I Did It Ft. Post Malone, Megan Thee Stallion, Lil Baby & DaBaby
Let It Go Ft. Justin Bieber & 21 Savage
Body In Motion Ft. Bryson Tiller, Lil Baby & Roddy Ricch
Popstar Ft. Drake
This Is My Year Ft. A Boogie Wit Da Hoodie, Big Sean, Rick Ross & Puff Daddy
Sorry Sorry Ft. Nas, Jay-Z, James Fauntleroy & Harmonies By The Hive
Just Be Ft. Justin Timberlake
I Can Have It All Ft. Bryson Tiller, H.E.R. & Meek Mill
Greece Ft. Drake
Where I Come From Ft. Buju Banton, Capleton, Bounty Killer & Barrinton Levy